Essential comfort food for winter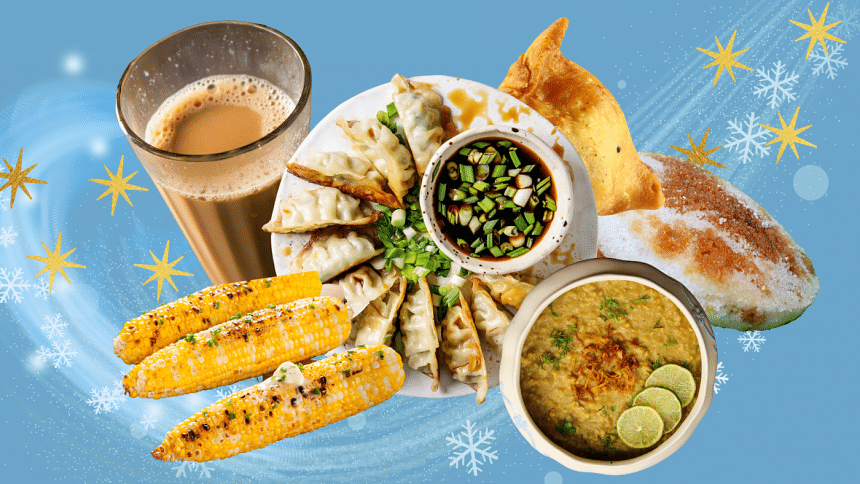 Whenever winter rolls around, we instinctually seek warmth and comfort. Luckily for us, winter delicacies readily available to give us just that.
Even though everyone might have their own unique winter favourites, a few classics are always present to give us warmth when the air becomes cold and the sunlight becomes scarce.
Pitha
Bangladesh is lucky to be home to a potpourri of pithas. Bhapa pitha, which as the name suggests is steamed, is a staple during the winter season. With julienned coconut on the top and jaggery inside the warm, fluffy pitha, it stays number one on the list of favourites for many in the country. Needless to say, that this is a dish which carries nostalgia and comfort for several generations.
Chitoi pitha is another winter favourite. Whether it's paired with bhorta, ilish, spicy gorur mangsho, or simply in its humble, original form, chitoi pitha reigns supreme in our hearts.
Dumplings
Dumplings come in a myriad of shapes and sizes. Even though dumplings are of foreign origin, they have blended in the Bangladeshi street food scene, making them readily available and affordable. So, one can enjoy the pleasant and hearty dumplings without having to go to restaurants all the time. Be it with friends, family or just by yourself on a solo date, dumplings are a source of comfort and happiness.
Chaa and shingara
A cup of tea is ingrained into the lives of Bengali people. To most, it is nothing short of a necessity. Even though tea is enjoyed throughout the year, the chilly season adds a greater layer of fervour. Coupled with a cup of tea, steaming shingara packed with a filling of spiced vegetables and boiled potatoes, becomes an unbeatable winter combination.
Bhutta 
It's corn! Steamed or char-boiled, biting down on a corncob dredged with black salt is sure to make you feel warm and mellow from the inside. So, the next time you need an instant rush of energy and happiness to alleviate yourself on a bad day, you know what to find comfort in.
We all need things to find contentment in. These comfort winter foods are analogous to that of a snugly hug, holding a warm hand, fuzzy socks and slippers, cosy blanket or that one sweater or hoodie we always seem to hold on to.
Ayra Areeba Abid's favourite word is serendipity and she's a sociology geek. Connect with her at areeba.ayra@gmail.com