112th Birth Anniversary of Justice Syed Mahbub Murshed
A lion-hearted pioneer
Syed Mahbub Murshed (January 11, 1911 to April 3, 1969) was a Bangladeshi lawyer, jurist, and a reformer. He served as the chief justice of the then East Pakistan High Court from early 1964 till late 1967.
He understood how East Pakistan (now Bangladesh) worked, the fundamental realities of our society, and how laws should be administered and applied in our context.
Justice Murshed also shook the bar out of its lethargy and modernised it as far as possible. And he transformed our judiciary through a relentless push for progress and excellence within the four years of being in office.
His jurisprudential approach was also marked by pragmatism, boldness, and conviction. Throughout his life, Justice Murshed preached, berated, pontificated and counselled his own people.
His grandeur was rooted in his strong intellect and his prodigious ability to look beyond the horizon. During the regime of Pakistani military dictator Ayub Khan, Murshed gave bail to Bangabandhu Sheikh Mujibur Rahman sitting in his car in front of the then Commissioner's office. The Advocate General opposed this by stating that the then East Pakistan's Governor, Monem Khan, would not like it. To this Murshed said, "Tell the governor that I am the law."
Justice Murshed was the first since the 1950s who introduced writ petitions in the higher courts of the country. It was through writ petitions that executive powers were curtailed and people's fundamental rights were protected. This happened often during the regime of Ayub Khan, wherein leading Bangalee politicians who were arrested were released due to Justice Murshed's courage.
He also actively participated in the Language Movement. On February 21, 1952, after attending the funeral prayers of the language martyrs, then Barrister Murshed and his uncle Sher-e-Bangla AK Fazlul Huq led a procession, breaking section 144. As a result, near SM Hall of Dhaka University, the police charged with truncheons and both uncle and nephew were arrested for a few hours.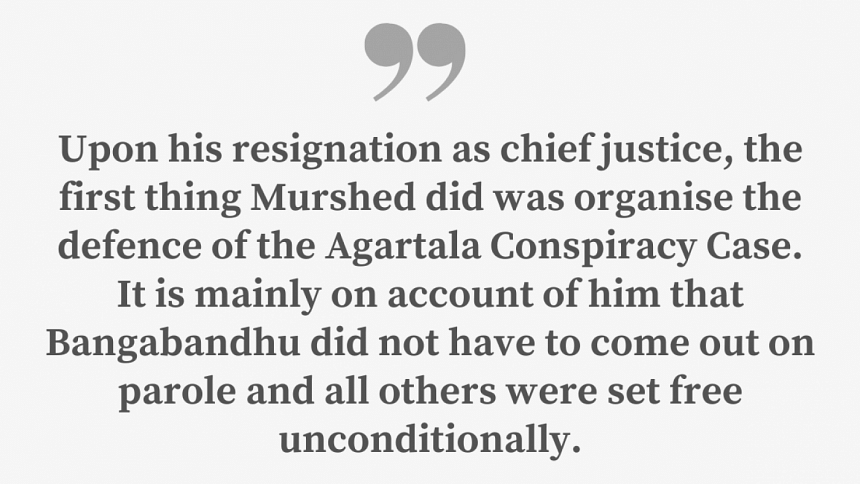 After a brilliant academic career both in the subcontinent and in England, Syed Mahbub Murshed began his career as a barrister first in the late 1930s, and soon made his mark at the Calcutta Bar. His attachment to the Bar and to members of the legal profession lasted till the end of his days in Bangladesh. "The Bar," he said, "is my professional home, a place where I shall continually return; even when I am dead my disembodied soul shall hover around the Bar."
In 1954, Murshed was elevated to the Bench of the High Court's Eastern Wing in Dhaka. As a judge, he remained committed to his lifelong ideals of liberty, justice, and excellence. Some of Justice Murshed's judgements created constitutional history and not only won him national fame but also international acclaim. He remained a reflection of courage despite pressures from the highest quarters.
Being a humanitarian all his life, the famine that gripped Bengal in the 1940s and the communal riots of 1946 moved Murshed to found the welfare organisation Anjuman Mofidul Islam. As a sitting judge in the 1950s, he worked relentlessly as chairman of the Red Cross.
In early 1954, before becoming a judge, Murshed along with Abul Mansoor Ahmed drafted the 21-point manifesto for the Jukta Front government, which was led by his uncle Sher-e-Bangla AK Fazlul Huq.
Again, it was Justice Murshed who put the final varnish on the six points which Bangabandhu fought for and was jailed for.
Upon his resignation as chief justice, the first thing Murshed did was organise the defence of the Agartala Conspiracy Case. It is mainly on account of him that Bangabandhu did not have to come out on parole and all others were set free unconditionally. It was his protest resignation as chief justice that the public of both wings felt that he was the only acceptable candidate to run against President Ayub Khan.
During the 1969 Round Table Conference, Justice Murshed demanded one man one vote. Prior to this, in the National Assembly, there was a parity of 150 seats each for both the Eastern and Western wing. Since Murshed's one man one vote proposal was accepted, the Eastern wing got 169 out of 300 seats in the all-Pakistan national election in 1970. Thus, he paved the way for the majority vote winners in the Eastern wing to form the national government.
I can only conclude by saying about him the same passage he said about his uncle, Sher-e- Bangla: "In life and in death, he was a king without the trappings of a monarch, for he had built an empire in the hearts of his fellow men."
Anwar A Khan is an independent political analyst, who writes on politics, political and human-centred figures, current and international affairs.