The possibilities of slam poetry
Highlights from SHOUT x DS Books' Slam Poetry Night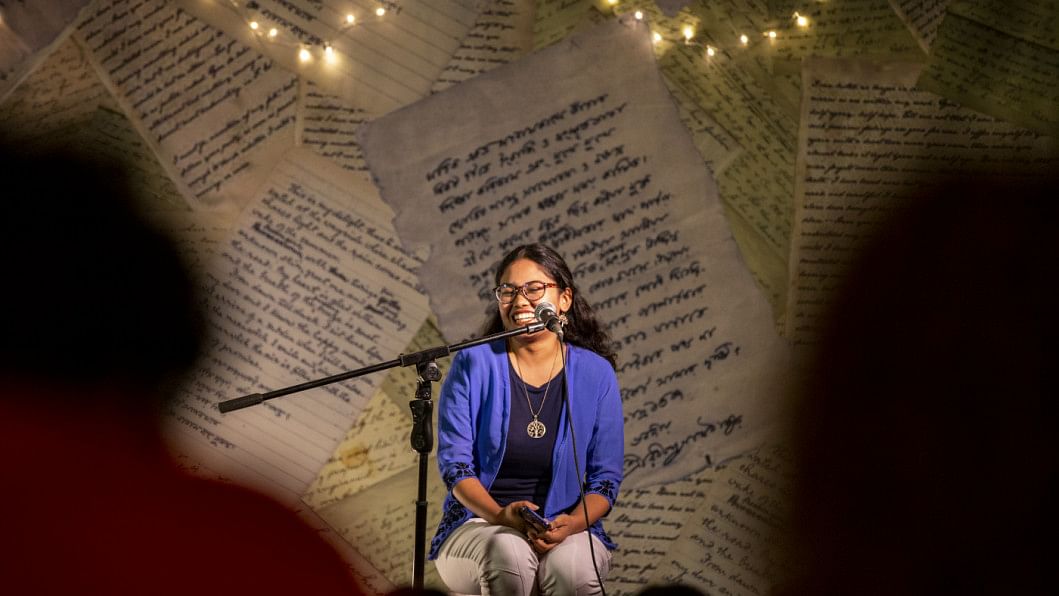 The evening of September 8 at The Daily Star Centre saw an outpouring of verses to a live and very, very interactive audience. Daily Star Books and SHOUT jointly launched our series of Slam Poetry Nights—an evening, every month, of verses recited in the spirit of creative freedom, freedom to think and speak about the things that make us happy, angry, miserable, excited. 
We heard poems being recited on life in Dhaka, frustrating and inspiring as it always is; we heard poems about freedom of speech, about memories of exploitation, mental health, the agency of women, about cats and gardens and young love. 
Second e second e manush mortese tinsho/ Ekhon tumi kaader shathe mishcho/ Shudhu toh morche toh nah, Sir/ Purtese joltese jinda kobor hoye jaitese eeter tole/ Tobu hay bhalo basha, Cheeler moto hoye keno je ure ure berao/ Shororer mathar upore. "Telephone", the last performance of the night by Azmain Haque, truly brought the house down. 
Before that, though, we saw something more moving than just recitations. 
"When I realized I was the youngest performer of the night, I felt really insecure about my poem", Nusaiba Nawar, whose poem turned Nakshi Kantha into a canvas of memories, tells me. "But people were actually listening to me, they were responding and genuinely interested in my poetry. That's all you can ask for."
"Every poem performed had a different flavour and style. The diversity and the voices were a surreal experience", she adds. 
Kazi Mahdi Amin, whose poems focused on love, death and the morbidity of Dhaka, says, "I regained hope seeing people so empowered by literature in a world where social media videos are the jam."
In between these performances, speaking to the audience—who had bunched together on the floor in the warmly, dimly lit auditorium—brought up feelings many of us share about poetry, a form that is often difficult to grasp, let alone master writing in. 
"I write a word that strongly resembles what I feel, as specific as it can get. And then I add a few more words. It then turns into a line, and then I add a few more lines. Slowly, I decorate those words with more words, and it ends up looking like the first draft of a poem", says AM Fahad. 
Fahad started writing poetry as a response to Dante's Divine Comedy—the way he incorporated random and significant characters into "fanfiction" of history. 
"The first poem that I wrote was also an epic narrative poem (much like the Divine Comedy)", Fahad shares, "although, if I were to read it now, I would probably be critical of 90 percent of it. But that just means I'm growing."
"I believe it's important to remember that the real work is done while editing", Zareef Daian, who recited a poem about solitude, echoes. "Watching other people perform made me realize that I have a lot to improve. For starters, I need to figure out what to do with my hands during a performance", he says. 
Joyita Faruk, whose "Spiral" opened the night, shares, "It is a poem that speaks deeply to me about anxiety, self-hatred and their tendencies to get worse and stick someone in a pit that's hard to dig oneself out of."
These writers are all readers who also exist on a generous diet of verses—Mary Oliver, Sylvia Plath, Adrienne Rich, and Kaiser Haq were mentioned as favourites.  
Joyita Faruk, Zareef Daian, Samiul Habib Utsho, Nazifa Raidah, AM Fahad, Anik Khan, Nusaiba Nawar, Azmin Azran, Kazi Mahdi Amin, Rono, and Azmain Haque. The 12 participants of our first Slam Poetry Night had been selected from a large volume of applications that we received upon the program's announcement.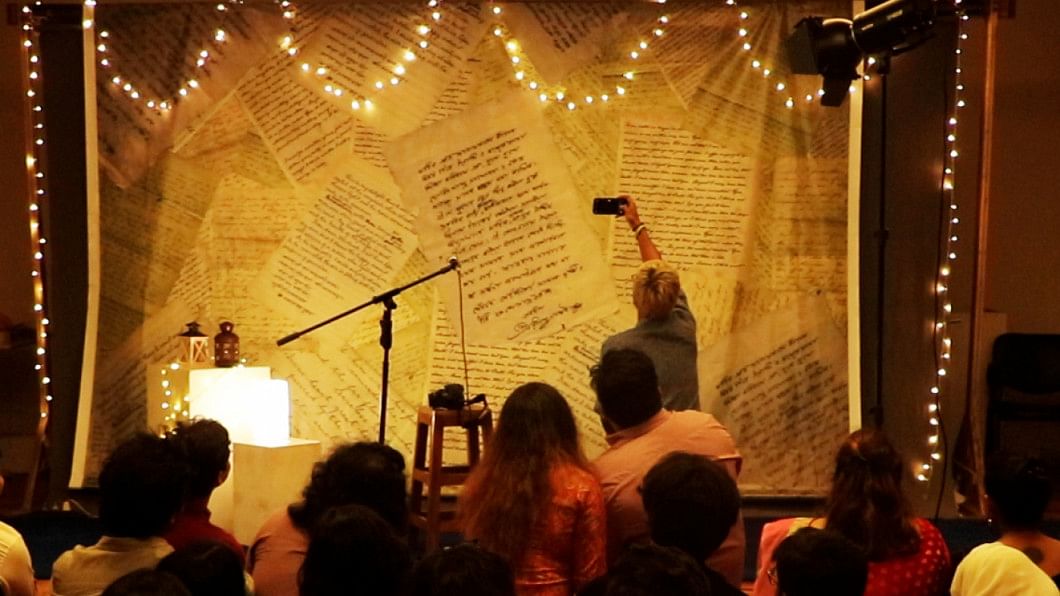 Yet more exciting was the response we received from the audience at the event, many of whom took to the stage for impromptu recitations, discussions of what moves them and annoys them about poetry, and their hopes and dreams from Bangladesh's creative writing scene. 
They want the field to be more accessible to people outside of Dhaka. They want more exposure for writers of diverse backgrounds. They want discussions on music, philosophy, psychology, literature, life experiences. They want to see more innovation, a reimagining of the notion of what art can be, a breaking down of boundaries. 
In an effort to offer some of this and perhaps more, SHOUT and Daily Star Books' Slam Poetry Nights will be back next month. Follow our social media pages for updates. 
Sarah Anjum Bari is editor of Daily Star Books. Reach her at sarah.anjum.bari@gmail.com and @wordsinteal on Instagram and Twitter.