First Slam Poetry Night event organised by SHOUT and DS Books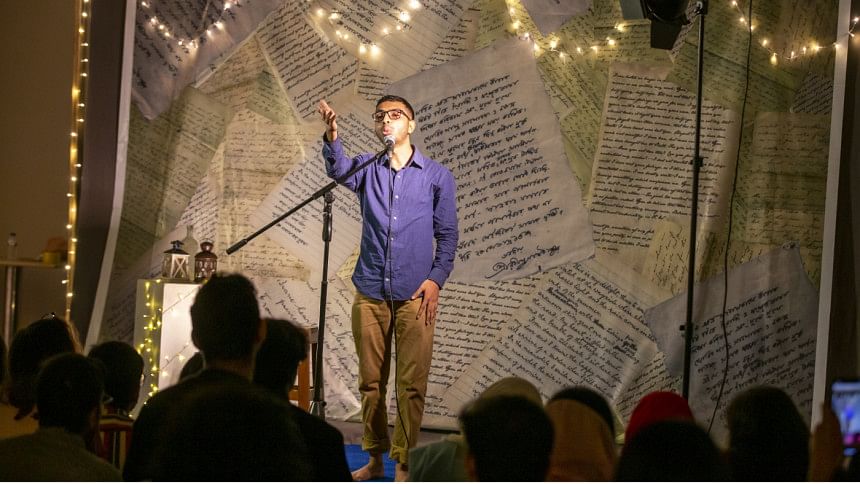 SHOUT and Daily Star Books organised the first instalment of their monthly event Slam Poetry Night in the capital's The Daily Star Centre yesterday. 
More than 15 performers presented their works of poetry at the event. The age group of the performers ranged from tenth-graders to graduate students, who read their poetry in both Bangla and English. 
The poems ranged from mental health issues to individual freedom of expression and every musing in between. 
Many of the poets who took the stage were first-time performers, while there were other performers who were young published poets. In between performances, the audience and performers interacted about what inspires them, how they deal with writer's block, and their writing process. A handful of performers made the decision to perform on the spot as the organisers encouraged them to take the stage in the impromptu session.
One of those performers was Noyolee Munim, a student of Economics at Dhaka University. 
"I came here not expecting much, as I've never experienced a slam poetry event before. But the ambience was amazing, the audience was supportive and interactive. The poetry I heard inspired me to start writing again. A lot of the topics they wrote about were very reliable as well. In the end, I even got to go on stage and recite a poem of my own," she said.
"One special thing was that I got to meet many like-minded people and speak to them after the event. I have been craving this for a while, and the chance I got to meet these people really made this a great event for me," said Noyolee.