What's so great about English education anyway?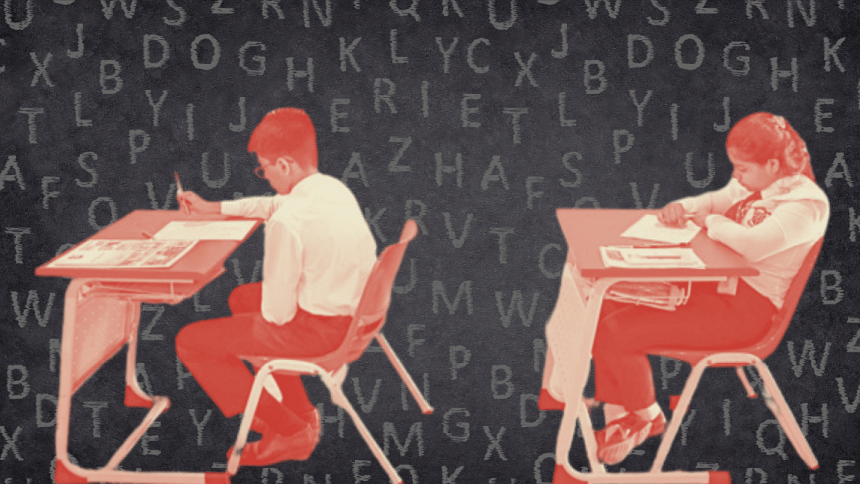 Despite remarkable economic growth in Bangladesh, the allocation for education in terms of percentage of GDP is low compared to most other countries in the region and globally. And one of the most overlooked problems is that we overspend on English education and under-spend on Bangla and STEM subjects.
There has rarely been any serious discussion about our education sector from an economic approach. What are the economic costs of English education? And what are its economic benefits? There is a pressing need to compare the two.
We have reasons to believe that neither the costs, nor the benefits, of English education are properly assessed. The benefits are also artificially exaggerated by a) the imposition of the English language by the colonists and the high status attributed to it by our own colonial mindset; b) the domination of the Urdu-speaking West Pakistan over the then East Pakistan and the relief from that sought by Bangladeshis by acquiring an English education; and c) the influence of a small but powerful elite/pseudo-elite group within Bangladesh propagating the importance of English.
These factors have given way to the government's uncritical prescription and implementation of English as a compulsory subject from Classes 1 to 12. Globalisation has also created a strong perception that English and economic development are positively correlated.
The decision to implement Bangla at all levels of education was taken at a sentimental point in the history of our country. However, two things acted against the realisation of the objective of this decision: 1) the tumultuous situation in educational institutions resulting in a total lack of quality education and 2) the absence of any government programme to have textbooks and other related books translated or composed in Bangla.
By the time our education system gained some normalcy, a culture of mediocrity had come into being within the school system. In addition to a grave loss in the quality of education in general, a lamentable quality of English education became a matter of the greatest concern for the dominating social class. The intelligentsia, instead of looking for ways to circumvent the problem, started blaming the government for the decision of making Bangla mandatory.
This led to the proliferation of English-medium schools, leading to the commercialisation of education, foreign influence in the training of English teachers and a spread of specific pedagogical models. What is more tragic is that the government itself joined the bandwagon by introducing the English version of the Bangla curriculum. Middle-class parents, in their quest to achieve the perceived benefits of an English education, are rushing to any English version schools available.
Recently, research has shown that over-expenditure in English education has led to under-expenditure for other subjects, particularly Bangla and STEM subjects. At the same time, English education drains away a disproportionate amount of students' time.
The reality is that the entire mass of students does not need perfect English skills for their working life, let alone for life in general. The individual needs and aspirations of students should be the primary driving force to help them gain skills necessary for them.
The education system may focus on a minimum level of performance for all students in specific aspects of language learning, that is, vocabulary, spelling, pronunciation, listening, speaking, reading and writing.
Our experience and analysis with the implementation of an English Language Skill Enhancement Program in rural Bangladesh, as part of our work with an international NGO, gave us some insight into the needs and aspirations of common people vis-à-vis English education. The true demand for English does not exist in all sectors of Bangladesh's economy, but relates to specific sectors and sub-sectors. Hence, costs and benefits of an English education should be estimated in terms of "segmented" markets.
We have identified the various segmented markets for English in Bangladesh and the "level" of English required in these segments or the sub-sector of the education sector.
A "high" level of English education is required when teaching English (at secondary and tertiary levels); working in higher levels of the judiciary, in foreign services, for international assignments with international agencies and NGOs, and in Bangladeshi offices of multinational companies; working in the media; and training people for employment or studies in foreign countries.
A "medium" level of English education is required when working in administration or working as a primary school teacher. And finally, "specialised" training in English is required when becoming a specialist professional (in medicine, engineering, science, etc); working in the ICT sector; working in international trade and areas related to international supply chains, in tourism and hospitality industries; and working abroad – in skilled, semi-skilled, and unskilled jobs.
In our view, an economic cost-benefit analysis of English education will lead to the right amounts of expenditure in English, Bangla and STEM education. To this end, we recommend that the government creates an effective English curriculum to meet the basic needs of the population, leaving medium and high levels of skills outside the regular curriculum. Public and private sectors should also act together to collect and analyse data and information on the costs and benefits of acquiring an above-basic level of English education when working under different segments of the economy.
Matilal Pal is a former official of the Volunteers Association for Bangladesh (VAB). Jasimuz Zaman is former country director of Volunteers Association for Bangladesh (VAB).