Swami Vivekananda's universal humanism continues to be relevant today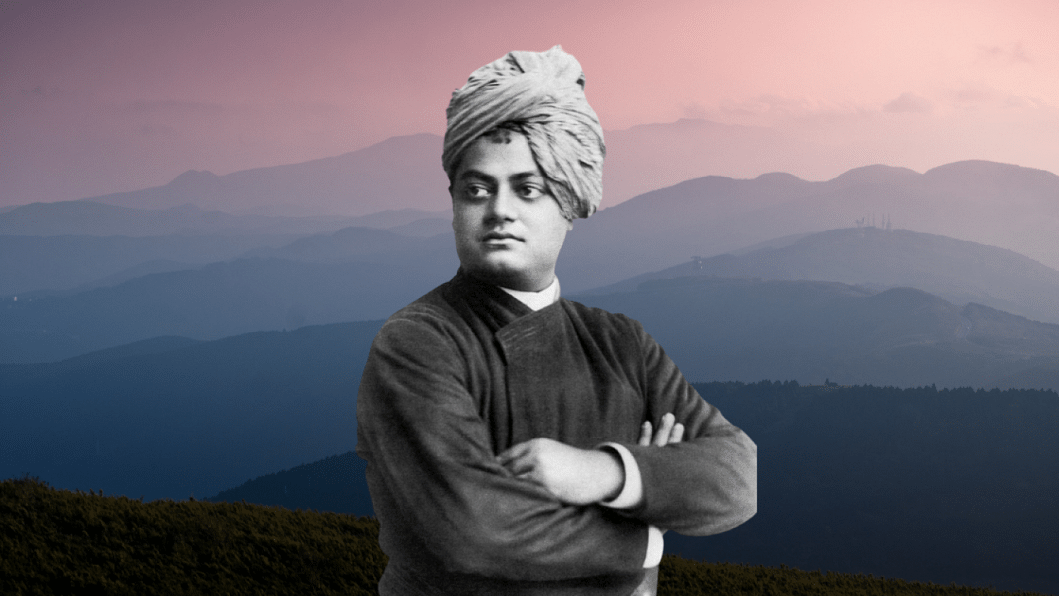 Humanism developed as a distinct philosophy in Europe in the Modern period. Historian Arnold Toynbee says that this philosophy traces its origin to the aftermath of the Protestant-Catholic war in Germany, fought for papal supremacy in the name of religion. Till then, the Christian concept centred around God and God only. The philosophy of humanism was a transition from heaven-centred theology to man-centred philosophy. The progress of science and technology also contributed significantly to this movement. 
New ideas of humanism were added by Christian humanists later, leading to the movements for women's liberation and the abolishment of slavery in the US. Toynbee also wrote that following the impact of the World Wars in the 20th century, there was a remarkable change. There was a loss of faith in not only God, but in man also. The philosophy of humanism thus met with a severe crisis in modern times. In the first chapter of the Gita, Arjuna expressed his anguish and fear in anticipation of the great loss of human values. Modern wars have proved that this anxiety is as true now as it was in olden times.
Against this backdrop, we may look back to Swami Vivekananda and his message of spiritual humanism. Swami Vivekananda presented a new concept: that humanism could be based upon a philosophy of the potential divinity of man according to Vedanta. It was Swami Vivekananda who presented for the first time before the Western world the message of the glory of man. He said that men were never children of sin, but verily the children of immortality.
It was not a philosophy of humanism limited to any religion, country or time. The Vedic seers called upon everyone, everywhere in the universe or beyond, to see that all are divine, and are divinities in human form. It was indeed universal humanism – not Hindu, not Buddhist, not Christian, not Muslim and so on. Swami Vivekananda argued that this was not just an intellectual or emotional expression. It had behind it a profound realisation as its foundation.
According to Swami Vivekananda, humanism is an ancient concept found in the Vedas and Upanishads, and even in texts belonging to the eighth or ninth century in the Bhagabata Purana. The tradition was continued later and was also found in the beginning of the 15th century in the poems of Chandidasa and in the life and teachings of Sri Chaitanya. Chandidasa said: "Shunahe manush bhai, Shobar upore manush shotto, Tahar upore nai" (Oh, mankind, my brethren, hear me, Man is above all truths and there is no truth higher than that). This message was dealt with later by Rabindranath Tagore, Sarat Chandra Chattopadhyay, Premchand, Subramania Bharati and others.
Humanism must be universal, and can never be parochial or limited. Vedanta and Vivekananda say that if there is any God, it is in you and me. And if there is any heaven, that is in your or my mind. The more you try to unfold the divinity that is already within you, the more you will discover heaven and the Kingdom of God in fuller colours. This must be unfolded step by step, and this can be accomplished by anybody, since the divine possibilities are hidden in every human being. Swami Vivekananda calls this the The science of Human Excellence.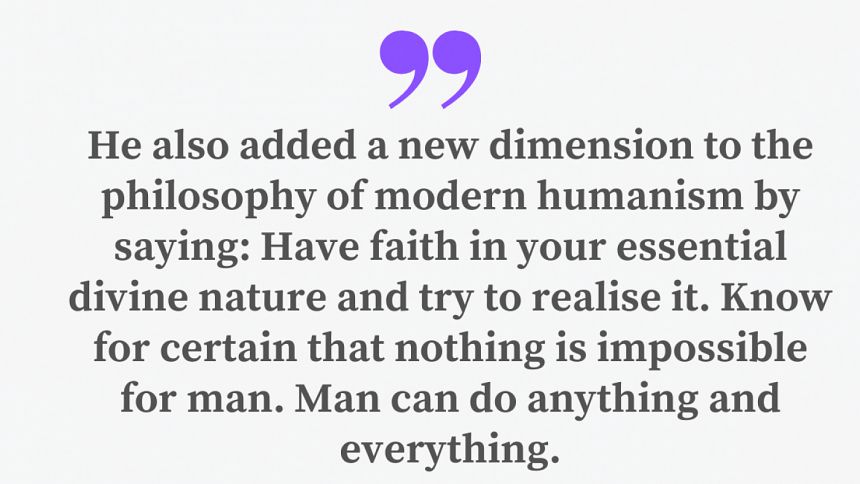 He also added a new dimension to the philosophy of modern humanism by saying: Have faith in your essential divine nature and try to realise it. Know for certain that nothing is impossible for man. Man can do anything and everything.
This is the Science of Positive Thinking that Swami Vivekananda left for us. He said in his famous lecture, "The Mission of Vedanta," delivered in Kumbakonam, India in February 1897: "Teach yourselves, teach everyone his real nature, call upon the sleeping soul and see how it awakes. Power will come, glory will come, goodness will come, purity will come, and everything that is excellent will come when this sleeping soul is roused to self-conscious activity." 
Romain Rolland, the French biographer of Swami Vivekananda, said: "I cannot touch these sayings of his, scattered as they are through the pages of books at 30 year's distance, without receiving a thrill through my body like an electric shock. And what shocks, what transports must have been produced when in burning words they issued from the lips of the Hero!"
This is what Swami Ranganathananda called the Vivekananda shock. He said, "Touch it, get the shock, you will be a different individual. That is what this country needs today."
This, in fact, is the humanism of Swami Vivekananda, which is universal and eternal. This indeed is the central note of Swami Vivekananda's message. He used to say, as Sister Nivedita wrote, "The more I grow in years, the more I realise that everything depends upon manliness. This is my new gospel."
Swami Purnatmananda is Adhyaksha and Secretary of Ramakrishna Math and Ramakrishna Mission, Dhaka.