How did the Nepal plane crash happen?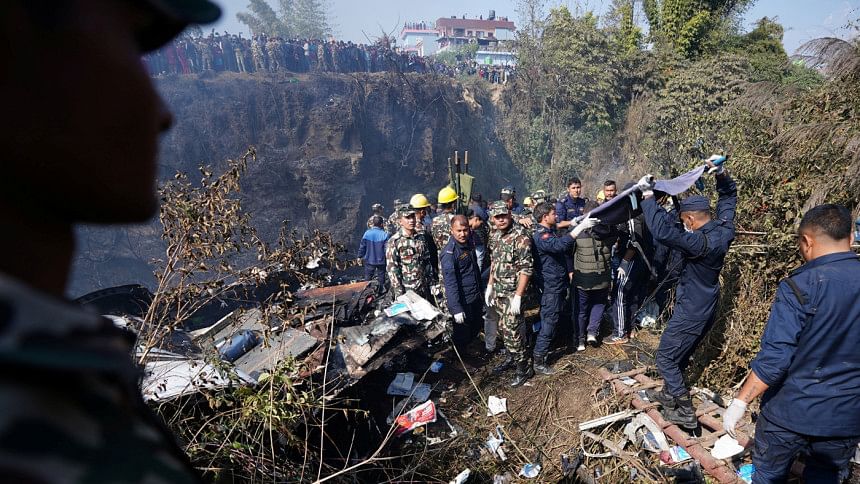 In Nepal's worst air crash in nearly 30 years, at least 68 people were killed after a Nepalese passenger plane with 72 people onboard crashed into a river gorge today while landing at the Pokhara airport.
Yeti Airlines' 9N-ANC ATR-72 aircraft took off from Kathmandu's Tribhuvan International Airport at 10:33 am, according to the Civil Aviation Authority of Nepal (CAAN). While landing at the Pokhara airport around 11:00am, the aircraft crashed on the bank of the Seti River between the old airport and the new airport.
The Kathmandu-Pokhara flight takes around 25 minutes.
Yeti spokesman Sudarshan Bartaula told AFP that among those on board -- 68 passengers and four crew -- were 15 foreigners including five Indians, four Russians and two Koreans. The rest were Nepalis.
The flight crashed 10 to 20 seconds before landing and there was no distress call from the cockpit before the disaster, airline spokesman Sudarshan Bartaula said, according to Bloomberg.
"Weather was not a problem, preliminary information has been received that the plane crashed due to technical reasons. Information has been received that flames were seen in the plane while it was still air-borne," Gyanendra Bhul, information officer at the Civil Aviation Authority of Nepal.
Footage shared on social media, which appeared to be shot just after the crash, showed raging flames on the ground and black smoke billowing into the sky from debris strewn across the crash site.
AFP was unable to immediately verify the footage.
Another unverified clip shared online showed a plane flying at a low altitude over a residential area banking sharply to the left, followed by a loud explosion.
Following the Yeti Airlines aircraft crash, the Pokhara International Airport has been closed for today for all incoming and outgoing flights.
Meanwhile, the Nepal government has formed a five-member commission of inquiry to probe the Yeti Airlines plane crash.