Dhaka-Aricha highway blocked in anti-VAT demo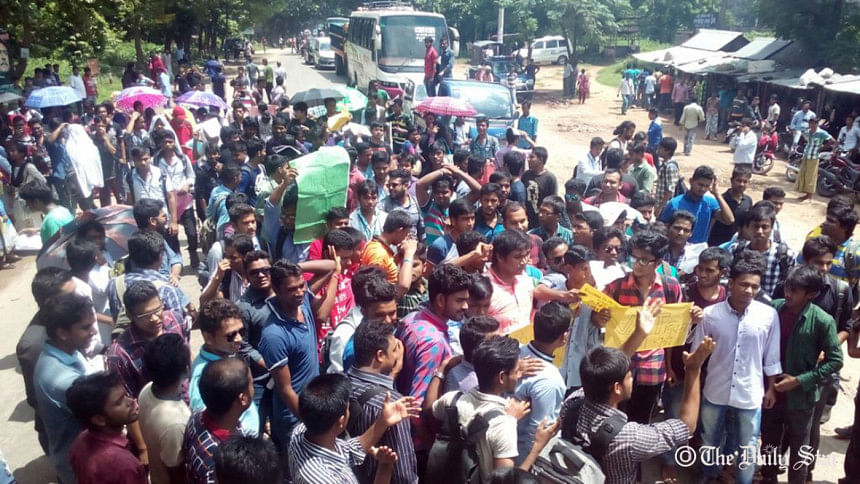 - Anti-VAT demo continues
- Dhaka-Aricha highway blocked
- Protests in Dhaka, Sylhet, Rajshahi, Chittagong
- Strike tomorrow
Agitating private university students have blockaded Dhaka-Aricha highway in Savar, on the outskirts of Dhaka, in continued demonstration against the 7.5 percent VAT on tuition fees.
Protests were held in other parts of the country as well, including Dhaka, Sylhet and Rajshahi, a day ahead of the threat of a three-day strike if their demands are not met.
ALSO READ: Demo hits education
About half a thousand students of Gono University took to the highway in Baishmile area around noon, our local correspondent reports.
The agitated students blocked the highway around 11:45am and called it off around 12:45pm voluntarily, causing traffic gridlock on the highway.
"We will again block the highway and stage demonstration around 11:00am tomorrow at the same place. It will continue till our demand is met," Masud Azim, a student of the university, said.
Ashulia Police Station Officer-in-Charge Mostafa Kamal said police were trying to calm down the students and remove them from the highway around 12:30pm.  He hoped traffic would resume shortly.
The agitation spread like wildfire after police opened fire on a demonstration of East West University in Dhaka's Rampura last Wednesday. The next day, students stopped capital Dhaka on its tracks for a day.
ALSO READ: Students demo stops Dhaka
In face of mass demonstration, the government "clarified" that the VAT was to be paid by respective universities and "it would not be taxed from the students".
The students however have rejected the "explanation" and threatened to wage strike for three-days, starting from Sunday, if the government does not remove the 7.5 percent VAT.
ALSO READ: PM speaks on anti-VAT demo at parliament
Today, several private university students brought out processions in Dhaka's Dhanmondi Road 27, Pragati Sarani and other areas ahead of tomorrow's strike.
Nur-e-Azam, Dhanmondi Police Station OC, said students of Daffodil University and some others marched near Road 27 and stayed for half-an-hour. "It created traffic congestion for a while".
Students of State University of Bangladesh, Stamford University and University of Development Alternative (UODA) demonstrated on Dhanmondi's Satmasjid road.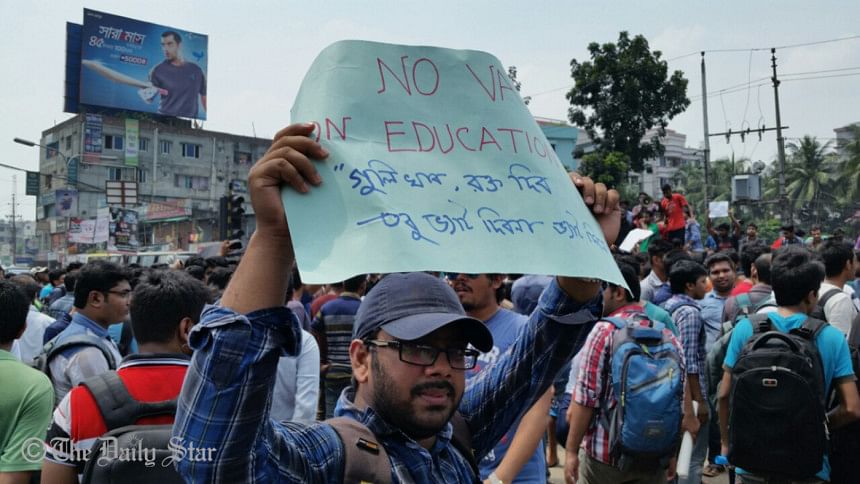 Bhatara Police Station OC Nurul Mustakim said students of a private university marched on Pragati Sarani. They stayed on the streets for about an hour before dispersing.
In Sylhet city, students took position near Court Point around noon, our local correspondent reports. They were chanting anti-VAT slogans. Kotwali OC Sohel Ahmed said police forces were deployed in the area to avert any untoward incident.
In Rajshahi city, students brought marched around Shaheb Bazar and Mani Chattar around noon, our local correspondent reports quoting the Rajshahi Metropolitan Police's Assistant Commissioner Iftekhayer Alam.
In Chittagong's Chandnaish upazila, about 300 students of BGC Trust University attempted to blockade Chittagong-Cox's Bazar highway around 10:45am. Patia circle assistant superintendent of police Md Shamim Hossain said they were dispersed by "locals".