Maize making its mark on farmers' lives
Farming sees substantial growth as growers' income rises
In 1991, when Abul Kasem, a farmer of Hatibandha upazila in Lalmonirhat, a northwest bordering district, decided to cultivate maize, he was one of the few growers in his area.
The yield of the grain was low. Farmers did not have interest to allocate their lands to cultivate the crop.
Three decades later, the picture has changed a lot. The maize is now grown widely in his village and the district too thanks to the demand for the grain among feed millers that offers farmers a guaranteed market and brings profit.
"All the farmers in the village are now cultivating maize. They are producing 10-12 metric tonnes of maize in each hectare of land due to availability of improved seeds. We are giving more priority to maize cultivation as the profit is three times that of the cost. We cannot make much profit by cultivating other crops," said the 67-year-old Kasem.
Not only in his area, but cultivation of the crop has expanded massively in recent years because of huge demand for the cereal grain, making it a significant cash crop for famers in the country.
During the current financial year 2022-23, farmers have grown the grain on more than 14 lakh acres, showed estimates by the Department of Agricultural Extension (DAE).
A decade ago, in fiscal year 2011-12, farmers cultivated the grain on 487,000 acres. They bagged nearly 13 lakh tonnes of maize in that year, said Bangladesh Bureau of Statistics (BBS) data.
During the fiscal year 2020-21, Bangladesh produced 40 lakh tonnes of maize in the fiscal year, up from 35.69 lakh tonnes the previous year, according to BBS.
Growers said the demand for the grain is so high in fact that buyers, such as poultry feed makers, pay in advance before collecting maize directly from them.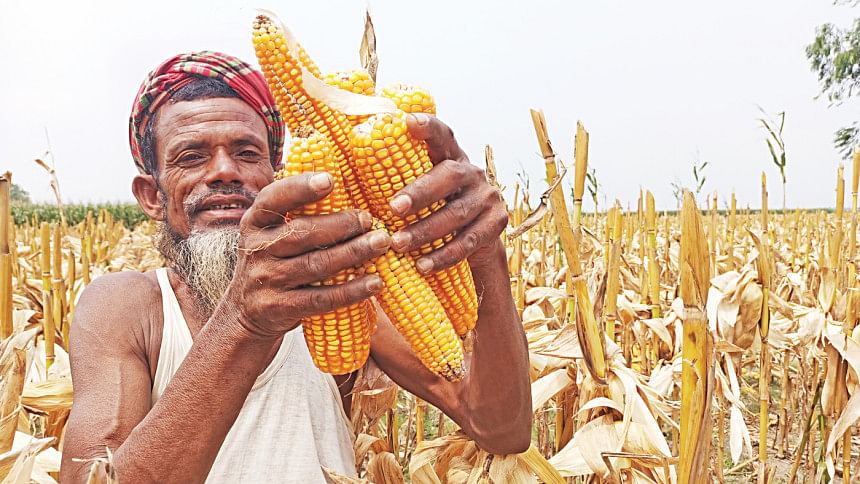 Maize cultivation is particularly popular along riverbanks and char lands as it offers better yields compared to other crops grown in such areas.
At present, around 5 lakh farmers grow maize on about 5.50 lakh hectares of land across the country with each hectare yielding up to 11 tonnes of the grain.
Farmers say their interest in maize cultivation gradually grew after seeing that they are getting the expected profit.
It costs between Tk 10,000 and Tk 12,000 to cultivate maize on one bigha of land, which produces some 35 to 45 maunds of the grain.
Each maund (37 kilogrammes) of maize can then be sold for Tk 1,000 to Tk 1,100, ensuring a profit of at least Tk 23,000.
Besides, there is less risk in growing maize as it can be produced twice a year while seasonal crops could lead to losses if the harvest fails.
Mizanur Haque, senior vice president of the Bangladesh Maize Association, said the grain has become highly popular among local farmers as it has helped them achieve financial stability.
But while maize cultivation is increasing day by day, about 20 to 30 per cent of the domestic demand is still met through imports.
Some 55 to 60 lakh tonnes of maize are now produced each year as demand has risen in line with the growing number of poultry feed and bakery companies in the country.
"So, maize is playing a vital role in the economic development of farmers in our country," he added.
Dr Jahangir Alam, an agricultural economist, said that domestic maize cultivation has expanded at a rate of about 10 per cent annually over the years.
"If this trend continues, we may not have to import maize after the next few years," he added.
Supen Chandra Das, a farmer of Madhupur village in Kaunia upazila of Rangpur, said maize cultivation requires low investment and effort while offering bumper yields.
He then pointed out that he makes of a profit of more than Tk 1.20 lakh every year by growing maize on six bighas of land.
"There are concerns over marketing for other crops but we are never worried about marketing for maize," Das said.
"Maize farming has put a smile on our faces," he added.
Sahidul Islam, a representative of the Bengal Poultry Feed Company in the Baura area of Lalmonirhat, said they require 45,000 tonnes of maize every year.
About 80 per cent of this demand is met through local sources while imports make up the rest.
"We buy maize from farmers at a fair price and pay in advance," he added.
Sources at the DAE in Lalmonirhat said that maize is being cultivated on 41,000 hectares of land in the district, particularly in shoal areas of Teesta river.
Didarul Islam, a farmer in the Char Jorgach area of Brahmaputra river in Kurigram's Chilmari upazila, said he cultivated maize on 12 bighas of land this year.
"Maize farming has brought prosperity to my family," he added.
Aftab Uddin, additional director of the Rangpur DAE, said they provide farmers all kinds of support for maize cultivation.
"Maize farming has brought smiles among farmers in the region, especially char areas," he added.