Domestic airlines doubt fast recovery
Blame slump in demand on two routes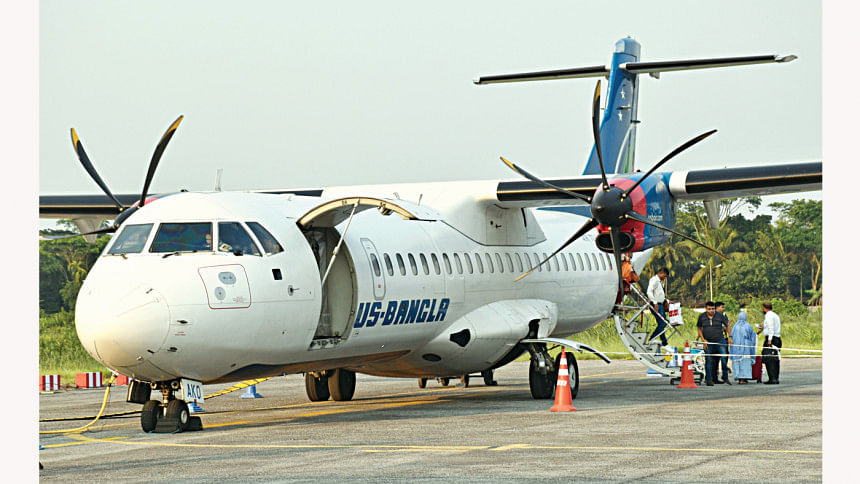 Domestic air travel had rebounded last year and the number of passengers reached close to that of 2019 as business and economic activities were revived following the pandemic-induced economic slowdown.  
And four months have gone by in 2023 with local carriers estimating that overall domestic air passenger numbers this year may not exceed that of the pre-Covid period.
The four carriers now in operation, including state-run Biman Bangladesh Airlines, transported 50.51 lakh passengers in 2022.
This was up 16 per cent year-on-year and just below that three years ago.
In 2019, airlines carried 50.74 lakh passengers, according to the Civil Aviation Authority of Bangladesh (Caab).
"It is very unlikely that airlines business on domestic routes will return to the pre-Covid situation," said Mofizur Rahman, managing director of Novoair, which operates more than 40 flights to seven destinations daily.
The pandemic-induced drastic slump in air travel suffered a major hit on two routes connecting southwest regions Jashore and Barishal out of seven following the opening of the Padma bridge.
The much talked about 6-kilometre plus bridge has cut travel time by road by half from over seven hours.
Passenger numbers on the Dhaka-Jashore-Dhaka route has decreased by 80 per cent while on the Dhaka-Barishal-Dhaka route by almost 90 per cent after the bridge's inauguration, said Rahman.
Despite a growth in passenger numbers in other destinations and considering the decline of passengers travelling to Jashore and Barishal, it is very unlikely that the flow of passengers will again reach the pre-Covid level, added the Novoair boss.
Rahman, however, raised doubts over the Caab data, citing that local airlines' annual carrying capacity on domestic routes would be anywhere from 30 lakh to 40 lakh passengers.
Domestic air travel did not fall year-on-year in the first four months of 2023, said Imran Asif, chief executive officer of Air Astra.
Overall traffic growth has been positive so far although it has not improved to that extent, he said.
What was surprising was a fall in traveller numbers during the fasting month of Ramadan. Passenger traffic picked up later, he said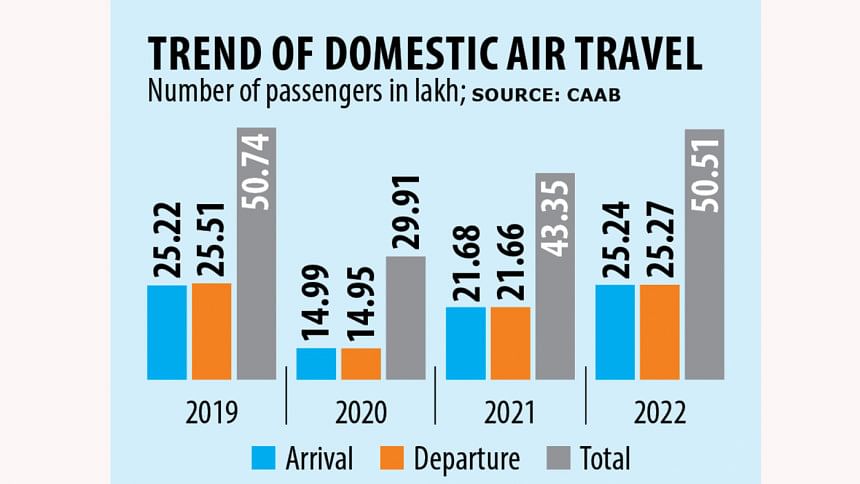 Asif, who has been in the industry for nearly two decades, said overall passenger carrying capacity might decline in the third and fourth quarter of this calendar year for scheduled maintenance and overhauling of some aircraft.
If this happens, the fare will go up, which will bar a section of customers from availing air travel, he said.
The number of passengers decreased significantly on the domestic routes connecting Jashore and Barishal, said Kamrul Islam, general manager for public relations at US-Bangla Airlines that operates 70 flights daily on seven domestic routes.
This resulted in a negative growth in the overall domestic sector, he said.
"But I believe the situation will change if the government resume operations of all airports in the country which were shut down over the years," he said.
"…as travel by air is still the safest mode of transport and people's economic ability has increased now," he added.
To help the local airlines grow, Novoair's Rahman suggested that the government offer fast track facilities in Dhaka city so that air passengers can enter and leave the airport within a short time.
Due to the perennial traffic congestion, people usually need two to three hours, depending on the area of their residence, to come to the airport or go to their residence after landing at the airport, he said.
"If we can reduce the time by 20 to 30 minutes, more people will be attracted to travel by air," he added.
The government should restore operations at five airports situated in Ishwardy, Thakurgaon, Lalmonirhat, Shamshernagar and Cumilla to increase the number of passengers by air, said the Novoair MD.
Regular flight operations had been run in those small airports but due to various problems, the operations were gradually suspended over the years.
A lot of economic activities are now ongoing centring Mongla and since it is a tourism site, the government also should quickly complete construction of a proposed airport at Bagerhat, he said.
The government is considering resuming operations of the country's five small airports in phases due to an increase in the living standards of people, said State Minister for Civil Aviation and Tourism M Mahbub Ali at a seminar recently.
The country's aviation sector has been undergoing a gradual change through consistent development, said the junior minister.
The present growth of the country's aviation sector is the highest in this region and will triple in the next 15 years, he said.
Air Vice Marshal M Mafidur Rahman, chairman of Caab, said they were planning to take measures to reopen all of the small airports as people's economic status has improved.
Businesspeople and people of areas where the small airports are situated are now showing interest to travel by air, said ATM Nazrul Islam, an aviation expert.
The government therefore should reopen those airports, he said.
"Our target should be to create the ability for at least 10 per cent of the population to travel by air," he also said.
Air Astra's Asif said the local aviation sector has bright prospects as income and purchasing capacity of people were rising for the steady growth of Bangladesh's economy.
A lot of development projects financed by international organisations are being implemented in different parts of the country, he said.