5 top stories to know today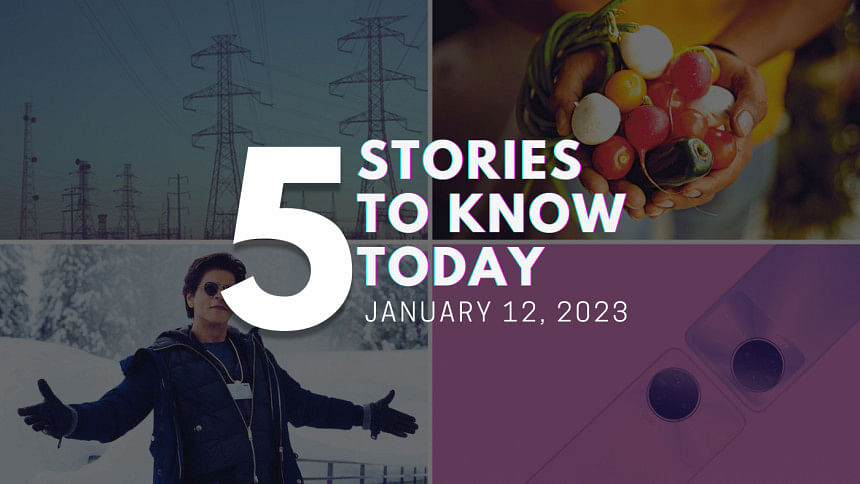 Dear readers, if you have missed out on all the latest updates of the day, worry not! We have you all covered. Here's a quick round-up of all the major stories today. (January 12, 2023).
Bangladesh faces five major risks in the next two years with sustained inflation, debt crises and severe commodity price shocks being the top three challenges for its economy, according to a report released by the World Economic Forum (WEF).
Human-made environmental damage and geopolitical contestation of resources are the rest two risks the nation might face in the short term, according to WEF's The Global Risks Report 2023.
Infinix Note 12 Pro features a 6.7-inch FHD+ true-colour AMOLED screen, a 108MP triple camera with a 1/1.67-inch image sensor and a 16P selfie camera. It has 256GB storage, expandable up to 2TB and 8GB RAM, which is expandable up to 13GB through memory fusion.
The Infinix Note 12 Pro will be available in three colours: Volcanic Grey, Tuscany Blue, and Alpine White. It is currently priced at Tk 26,499.
The government has increased the price of electricity by five percent at consumer level in different categories today.
The increase in price will be effective from January, reads a circular issued by the Ministry of Power, Energy and Mineral Resources.
Human Rights Watch observed in its annual report that extrajudicial killings and enforced disappearances dropped in Bangladesh since the US sanctions against Rab and seven of its former and current officials for alleged human rights abuses.
In the report released today, HRW said the drop showed that authorities have the ability tobring security force abuses under control, but lamented that law enforcement agencies continued to repress opposition activists last year.
Bollywood star Shah Rukh Khan has surpassed Hollywood giants Tom Cruise and George Clooney in the 'World's Richest Actors' list.
SRK is the only Indian actor on the list, according to World of Statistics data, which was published on Twitter. Jerry Seinfeld, an American stand-up comedian, actor, writer, and producer, is the richest entertainer in the world, with a net worth of $1 billion.