How we approach criticism can make a huge difference
We wholeheartedly support the prime minister's stance of not bowing to any "external pressure" in running the affairs of the country. As a sovereign nation, this is the only way to conduct our business. Under no circumstances can our sovereignty and national security be compromised.
That said, the foreign minister and his deputy (as well as the law minister), who conveyed the PM's message at a seminar attended by several western ambassadors, didn't elaborate on the kind of pressure Bangladesh likely faced, apart from hinting at "a handful of countries from the North" and warning that there are "red lines" that cannot be crossed. But there is a clear backstory to their announcement, coming as it does shortly after a joint statement issued by 15 foreign missions where they called for peaceful assembly and a free, fair and inclusive electoral process in Bangladesh. In November, the Japanese ambassador had caused a stir by citing alleged incidents of ballot stuffing in the 2018 election, adding that he'd never heard of this happening anywhere else. Clearly, the government didn't take kindly to such comments, and felt the need to reiterate its stance on the next election and the human rights situation, including allegations of enforced disappearances.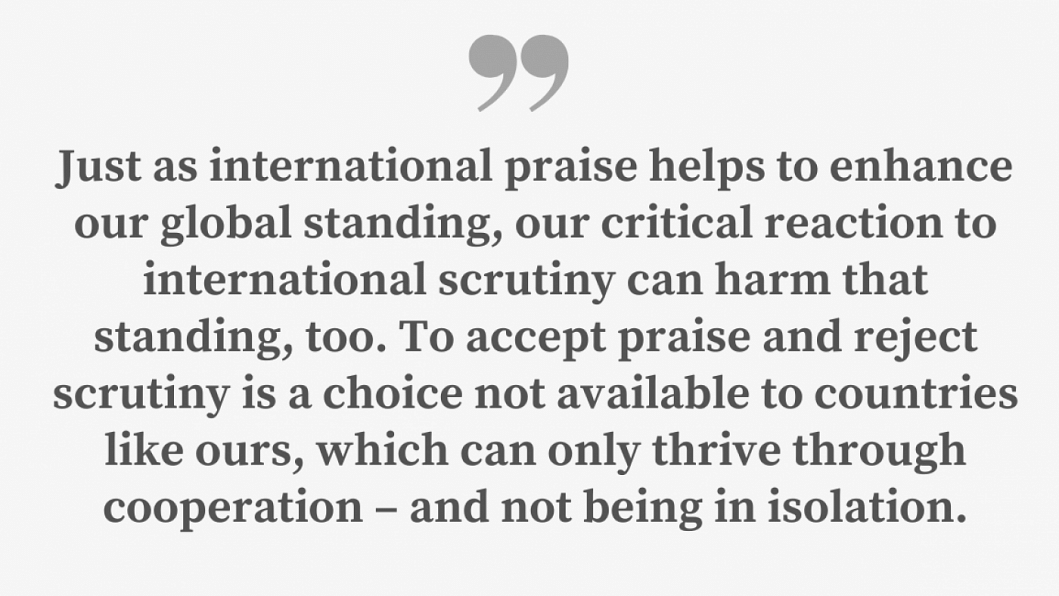 Recent remarks by other ruling party leaders also suggested growing discomfort at what they view as "interference" from foreign diplomats in our internal affairs. However, we want to raise the question as to what constitutes "interference". We're not oblivious to the diplomatic norms that govern state-to-state relations and the role of diplomatic missions in host countries. But as part of an interconnected global order, Bangladesh cannot dismiss offhand genuine concerns of our global partners, especially when it is endeavouring to strengthen ties with some of the very foreign missions involved. Among them are the EU and the US, from which Bangladesh is seeking preferential trade terms to expand its exports and prepare for a post-LDC reality. Bangladesh considers them as partners on trade, security and other issues, so why can it not do so on issues like human rights, labour rights, etc.?
Some of the issues they have flagged, we must acknowledge, are longstanding problems that we in the media have repeatedly highlighted. The concerns over democratic practices including shrinking space for the opposition and electoral irregularities are legitimate. Equally significant are concerns over Bangladesh's laws like the Digital Security Act, as well as barriers to freedom of speech and press freedom. As a signatory to the Universal Declaration of Human Rights and many other international treaties, it is only expected that Bangladesh will live up to scrutiny from the international community.
The question is how Bangladesh should conduct its own affairs in a globalised environment in which mutual cooperation and mutual dependence are two inseparable parts of the same reality. Just as international praise helps to enhance our global standing, our critical reaction to international scrutiny can harm that standing, too. To accept praise and reject scrutiny is a choice not available to countries like ours, which can only thrive through cooperation – and not being in isolation. The quicker we realise this reality, the better for us.