Don't let politics derail school system, too
State minister should answer for mass school closure to attend son's wedding reception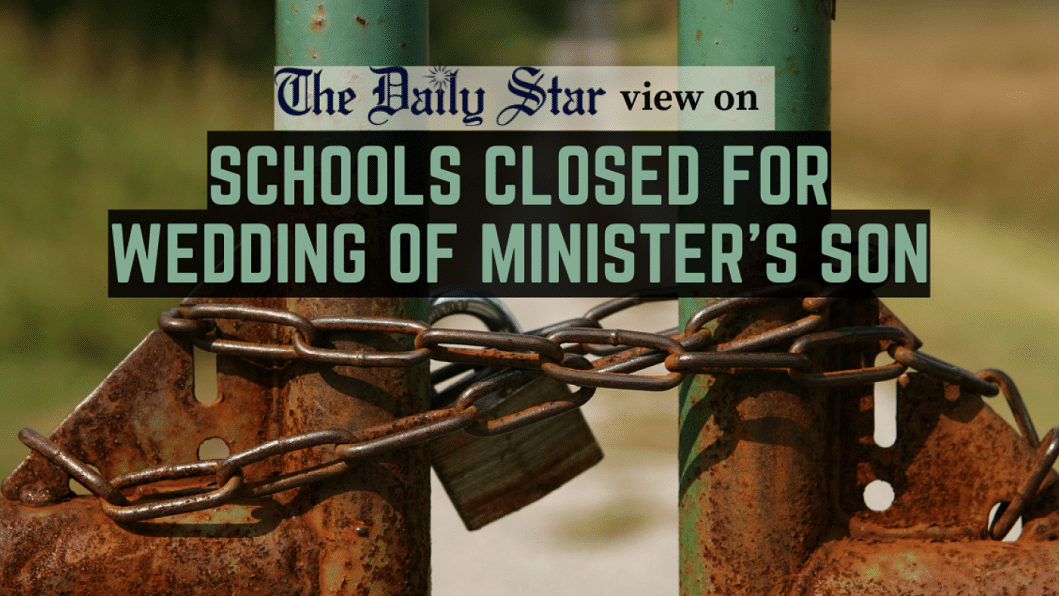 We are shocked to learn that 264 government primary schools in three upazilas of Kurigram were closed for a day because the teachers, including headmasters, had to attend the wedding reception of the son of State Minister for Primary and Mass Education Zakir Hossain. Reportedly, over 1,200 schoolteachers from the Chilmari, Roumari and Rajibpur upazilas were "invited" to the event in Roumari town where, according to sources, attendance was "compulsory". One guardian told our reporter that the authorities of his son's school did not even give any prior notice about the closure.
The entire episode demonstrates how education – at all levels – is being disrupted by political influence in the country.
While we often hear of the politicisation of public universities – where it is more embedded, and by now generally accepted – the same happening in public schools and colleges, albeit in a different form, is not talked about enough. The Kurigram incident is only one example of how this takes place. You see reports in the media about school playgrounds being used for political purposes, such as meetings, or wedding parties of politically influential people. You see school and college students being lined or paraded to welcome influential people. You even hear of the dangerous notion of launching a Shishu League. Such practices not only hamper educational activities but also, in the absence of corrective action, help normalise what is without a doubt a very disturbing trend. The incident that happened in Kurigram, which clearly required coordination to ensure all 264 schools were closed simultaneously, is an extreme example of political influence at the pre-tertiary level.
Naturally, it left us with a number of questions. For example, why was attending the event made "compulsory" for the teachers and headmasters of these schools? Who gave the school authorities the instruction to close for the sake of the reception? Did the authorities take the decision following any rule? We understand that when an incumbent minister invites schoolteachers of his constituency to his son's wedding, the latter may feel obligated to go there. This feeling of obligation – or coercion, in other words – speaks volumes about the extent of influence a senor ruling party politician has over schools in their region.
The incident also exposes the all-encompassing influence of politics in our society, spreading down to the most basic tier of education – primary schools. It is also a manifestation of how, as a society, we have failed to prioritise education. We think the state minister, who as a guardian for primary and mass education in Bangladesh, should explain this most un-guardian-like behaviour to the students in his constituency. The parliament should also seek explanation from him to ensure such conduct is never repeated. We must keep our educational institutions above political influence at all costs, and fix the problems plaguing the sector if we want to build a knowledge economy to prepare for the challenges that lie ahead.