Yearly Reports On Crashes: Secretary, transport leaders slam road safety campaigners
Also question authenticity of WHO report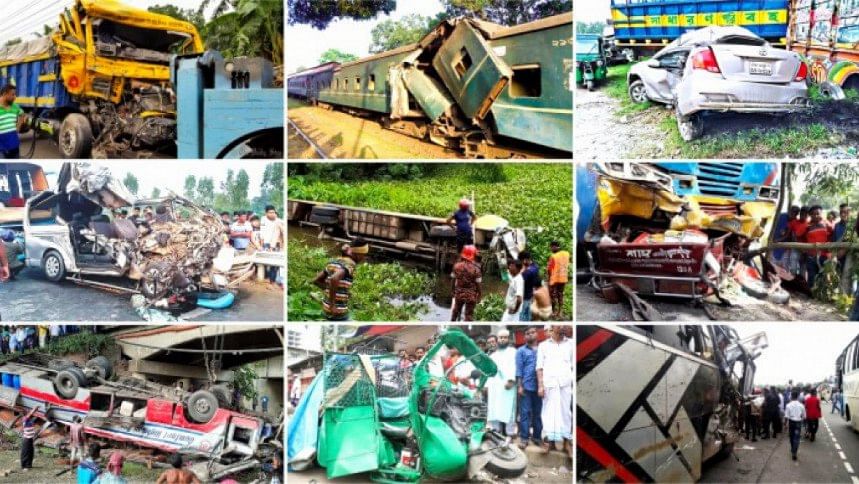 Transport authorities and leaders yesterday came down heavily on road safety organisations for publishing what they claimed to be "fabricated" reports on road crashes, creating confusion among the people and tarnishing the country's image abroad.
Speaking at a workshop, they claimed the numbers of both road accidents and deaths have come down significantly last year, compared to previous years, if the rise in the number of vehicles is taken into account.
Bangladesh Road Transport Authority organised the workshop at its headquarters to exchange views on its digital services and to inform the attendees about the rules of the Road Transport Act-2018. However, accident-related issues dominated the discussion.
One of the leaders said the activities of road safety organisations are tantamount to treason, and demanded legal action against them if their reports are not based on facts.
"Those who are publishing the reports [of accidents], please give us proof. If you fail to provide it, then tell the people you have published reports based on assumptions," said ABM Amin Ullah Nuri, secretary of the Road Transport and Highways Division.
"We won't give anyone the authority to publish fabricated reports."
He also questioned the authenticity of the accident report by the World Health Organization, saying the UN body prepares reports based on very limited samples.
However, representatives of two road safety organisations present there said their reports were based on media reports and prepared with due diligence.
Meanwhile, a representative of another organisation was not allowed to speak due to "time constraints".
Officials from the road transport and bridges ministry, BRTA, police, transport associations, road safety organisations and experts, and journalists took part in the workshop, in which Nuri was chief guest and BRTA Chairman Nur Mohammad Mazumder was the chair.
ACCIDENTS, DEATHS DECLINE: BRTA
Bangladesh Jatri Kalyan Samity, Nirapad Sarak Chai and Road Safety Foundation, like previous years, published their annual accident reports early this month and said the number of road crashes and deaths have increased last year compared to 2021.
According to Jatri Kalyan Samity, 9,951 people were killed in 6,749 road crashes last year. The numbers of crashes and deaths are the highest since 2015 -- 19.89 and 27.43 percent higher than those in 2021.
Meanwhile, the Road Safety Foundation said 7,713 people were killed in 6,829 crashes last year -- 27.14 and 22.74 percent higher than in 2021.
Over the last five years, the country has so far witnessed three movements, including a massive one in July-August 2018, demanding safe roads. Road Transport and Bridges Minister Obaidul Quader on many occasions admitted his failure to bring discipline on the roads.
BRTA Chairman Nur Mohammad Mazumder even at yesterday's workshop said that while the transport sector saw a huge development over the last few years, road safety still could not be ensured.
But Mahbub-e-Rabbani, a BRTA director (road safety), citing police data, said the accident and death rates per 10,000 vehicles has come down last year, compared to 2010 and even 2021.
He said the number of vehicles were 14.24 lakh in 2010, while the number of accidents and deaths were 2,827 and 2,646, meaning the accident and death rates per 10,000 vehicles were 19.81 and 18.54.
On the other hand, the number of vehicles rose to 55.92 lakh last year, when the number of accidents and deaths were 5,200 and 4,638, the rates per 10,000 vehicles were 9.30 and 8.29.
Rabbani said if the number of unregistered vehicles like Nosimon and Karimon are taken into consideration, the accident and death rates per 10,000 vehicles will further come down.
'TANTAMOUNT TO TREASON'
Defending the data, Road Secretary ABM Amin Ullah Nuri said police prepared their reports based on cases filed over accident deaths and no such unnatural death goes unreported.
"Others who publish accident reports prepare those based on assumptions," he said, adding that the division itself will publish monthly accident reports from next month onwards.
He said when they sought proof of their accident data, Bangladesh Jatri Kalyan Samity demanded Tk 3 lakh to provide the documents.
Mozammel Hoque Chowdhury, secretary general of the Samity, said they prepared reports on the basis of media reports with due diligence and submitted their previous report to the authorities free of cost.
"We prepare the report with our own resources. So, when they [the authorities] sought reports with our documents, we demanded a payment for our expenditures," he said. 
Immediately after this, Hossain Ahmed Majumder, acting general secretary of Bangladesh Truck-Covered Van Owners' Association, said, "People like Mozammel have taken a stance against the country while living here. Their activities are tantamount to treason."