Government desperate to suppress opposition
Alleges Fakhrul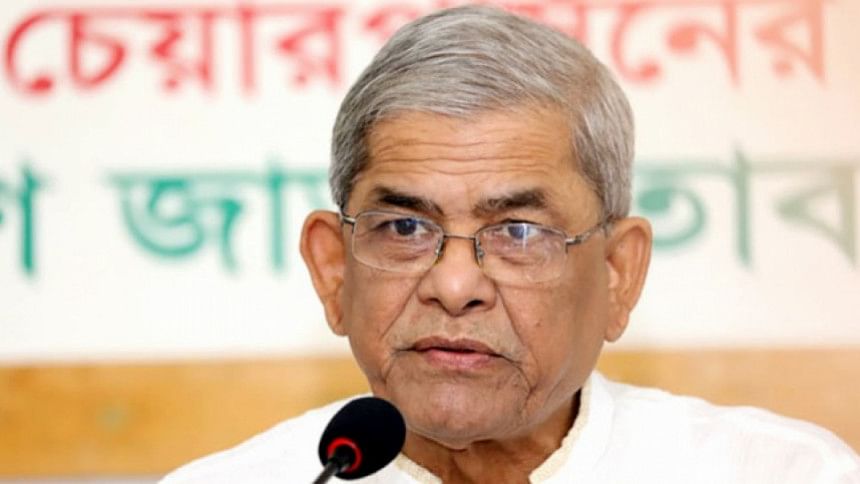 BNP Secretary General Mirza Fakhrul Islam Alamgir yesterday alleged that the government has become "desperate" to suppress the opposition leaders and activists, being afraid of the ongoing pro-democracy movement. "You (AL leaders) used to say a few days back that we didn't have the ability to stand on the streets and our backs were broken. But now you have become so restive that you are oppressing people by using all might to stop our movement," he said.
Fakhrul made the remarks while speaking at a press conference at the BNP chairperson's Gulshan office, condemning the attacks on BNP's sit-in programme in Faridpur and Mymensingh and some other areas in the country by police and ruling party activists on Wednesday.
He said the government has lost the ground beneath its feet. "The government has become so scared that they are carrying out attacks on our peaceful programmes."
The BNP leader also said the ruling party leaders are making various unguarded comments about the ongoing movement sensing their fall.
He alleged that the armed "cadres" of the ruling party attacked BNP's programme in Faridpur and Mymensingh in presence of law enforcers.
The police not only played the role of a silent spectator there but also attacked the leaders and workers of BNP, lobbed teargas shells and charged batons on them.
The BNP leader claimed that the law enforcers also arrested over 100 BNP leaders and activists from the two divisions while over 250 others were injured during the attacks.
Besides, he said police filed a case against BNP leaders and activists in Faridpur in connection with the clash.
About Awami League General Secretary Obaidul Quader's remark on the outcome of the simultaneous movement with small parties, Fakhrul said people do not care about what the ruling party leader says. "Like me, people all over the country don't give any importance to his remarks."
NO PROGRAMME AT DISTRICT LEVEL ON JAN 16
Fakhrul said their party will hold a rally and procession programme on January 16 in all cities and upazila headquarters to press home their 10-point demand and protest the government's power price hike decision.
"Yesterday (Wednesday) I said the programme will also be observed in all districts. But the programme will be observed only in all metropolitan cities and upazilas, not in the districts."