EC enrols 79.83 lakh new voters
Final list on March 2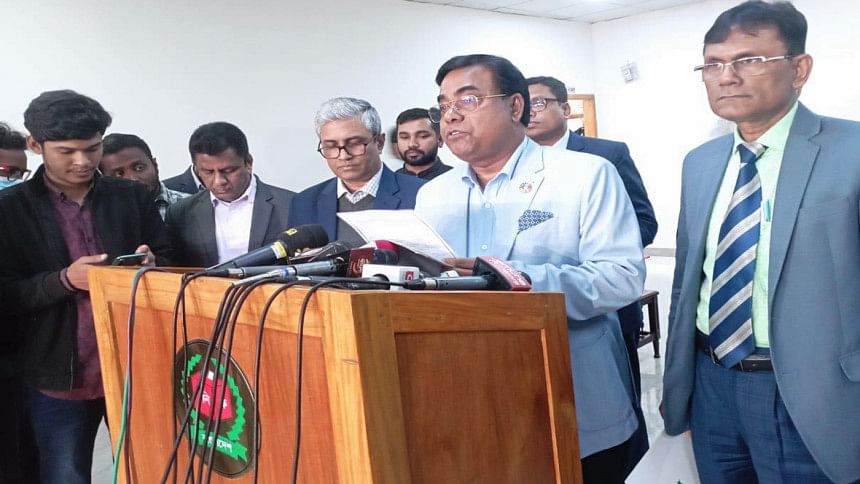 The Election Commission yesterday announced a draft voter list with an enrolment of 79.83 lakh new voters, who will become eligible to cast their votes in the next parliamentary elections for the first time.
Among the new voters, 40.72 lakh are men and 39.10 lakh women, EC Secretary Jahangir Alam said while talking to reporters at his EC office.
Anyone will be able to raise objections over the voter list by February 7 at all upazila elections offices and the EC will hold a hearing on February 14 to settle the objections.
The draft list will be displayed at important places at the EC field offices.
The final voter list will be published on March 2, Jahangir said adding that the next general polls will be held using this list.
The EC is planning to hold the 12th parliamentary polls in late December this year or early January next year.
This was the last registration process for prospective voters before the next election. EC enumerators went door-to-door in May-June last year, to gather information.
This time, EC representatives also collected data on citizens born on or after January 1, 2005, January 1, 2006, and January 1, 2007, who would gradually be included in the electoral roll when they turn 18.
Jahangir also said that while updating the voter list, the names of 22.09 lakh deceased voters were dropped.
The total number of voters in the country now stands at 11,90,61,158 among them 5,86,77,209 were women, he added.
Till March 2, 2022, there were 11.32 crore voters in the country and of them 5.56 crore were female.
There were 10,38,26,823 crore voters in the 11th parliamentary polls held on December 2018.
The country had 9,19,65,977 voters in the 10th national election, which was held on January 5, 2014, compared to 8,10,87,003 in the 9th national election, which was held on December 29, 2008.
While speaking with reporters, Election Commissioner Md Alamgir stated that anyone who commits vote fraud will face severe consequences, including criminal charges.
He stated that the EC has begun preparations for the presidential election, which will take place in due course.
Asked about when the EC would announce the election schedule, Alamgir said he could not say the actual date yet. "According to law, the Speaker is supposed to have a discussion with the chief election commissioner in this regard."
President Abdul Hamid's second term ends on April 24, and an election must be held between January 24 and April 23.
According to the constitution, if a vacancy in the office of president occurs due to the expiration of his term of office, an election to fill the vacancy must be held within ninety to sixty days of the expiration of the term.
The president is elected by the members of the parliament.