Rajattwa, the metro baby!
Woman gives birth in Agargaon station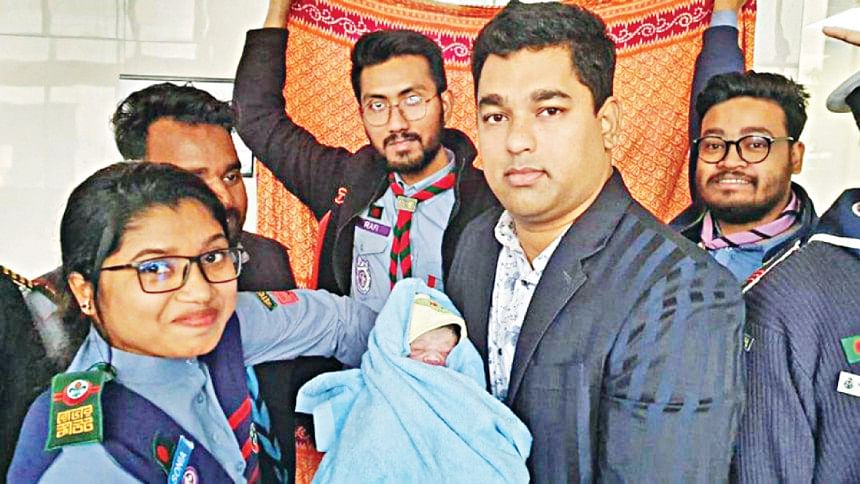 Soniya Rani Roy was supposed to get admitted to a Dhanmondi hospital yesterday as she was in her last stage of pregnancy.
Like the previous time, she boarded the metro rail with her husband from Uttara North Station, intending to get down at Agargaon station and then take a ride to go to Renaissance Hospital in Dhanmondi.
But minutes after the train departed from Uttara station, Soniya began to experience labour pain. After getting down at Agargaon, her husband sought help from the metro-rail staffers, who took Soniya to the station's first-aid room.
And then, she gave birth to a baby boy right there with the help of a female doctor, who was Soniya's co-passenger, and scout members.
"It [the service we got at the station] was completely unexpected for us. It's like the kind of services we get in developed countries," Soniya's husband Sukanta Saha told The Daily Star last night.
Sukanta said they are living at Nalbhog area near Uttara North Station, and on January 9, they visited their regular doctor at the hospital in Dhanmondi using the metro rail as it was convenient for them.
Mahfuzur Rahman, manager (civil and permanent way) of Dhaka Mass Transit Company Limited (DMTCL), the operating agency of metro rail, said when the couple reached Agargaon, they were helped by scout members to go to the first-aid room.
"Then, we called for a doctor. Fortunately, a female doctor was in the train and helped her give birth to the baby," Mahfuzur told this newspaper yesterday.
Later, the newborn and mother were sent to Renaissance Hospital in an ambulance, he said, adding that all metro rail stations have first-aid rooms for passengers.
This is the second baby boy for Sukanta, a police official, and Soniya, a home-maker.
Asked whether they will name the baby with something related to the metro rail, he said they had already set his name. "Our first baby is Rajbir, and the name of our second son would be Rajattwa."