Only PM has the authority to decide on Momen, says Quader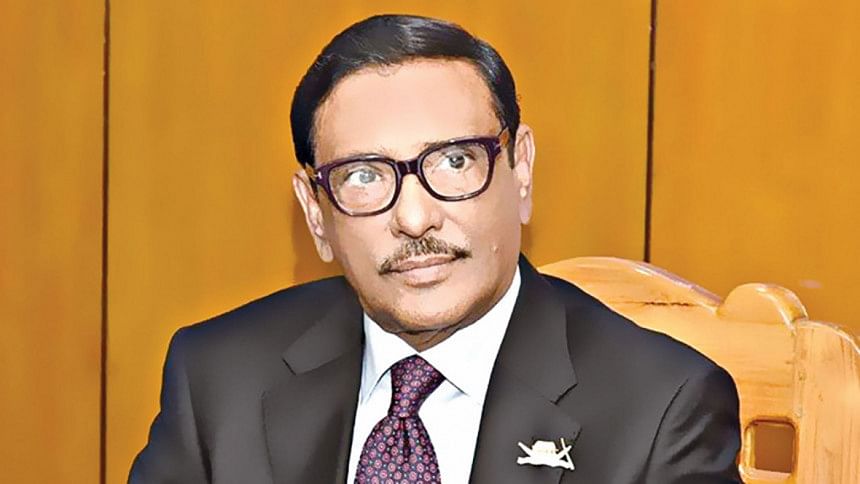 Road Transport and Bridges Minister Obaidul Quader today said that he did not know whether Foreign Minister AK Abdul Momen would lose the portfolio for his recent controversial statement.
"Some days ago, he [foreign minister] made a slip of tongue. I have no authority to say whether he will lose his post as minister. Prime minister has the authority," the minister said while replying to a query at a programme.
"I cannot say anything about it. I should not say about it," he added.
"There is no rule that foreign ministers always accompany prime ministers during her trips…He [foreign minister] is a human being, he can fall sick," the minister said.
Quader, also the general secretary of Awami League, said external affairs minister of India does not always accompany Prime Minister Narendra Modi.
The minister also said that the outcome of Prime Minister Sheikh Hasina's visit to India is a matter of happiness as seven memorandum of understandings and five agreements were signed during it.
"We did not return empty handed. I am happy that India has given all the things we needed to combat the present crisis and save our people," he said replying to another query.
"We did not have agreement on water sharing of the Teesta this time and during her last visit, but we have the Kushiara water sharing agreement," he said.
He hoped that Teesta water sharing deal will be signed someday as India did not refute the issue.
Quader said former prime minister and BNP leader Khaleda Zia had travelled to Delhi once and she forget to demand for the water sharing agreement.
But Sheikh Hasina did not forget to raise the issue.