Lumiere: An extraordinary drive-in movie experience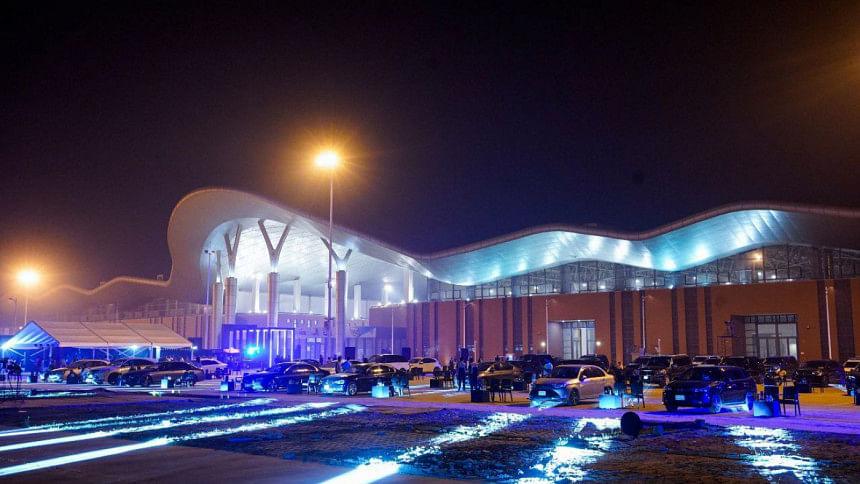 Entering through colourful gates bordered with blingy lights, surrounded by intriguing posters of two incredible movies all enhanced by the aroma of freshly made popcorn — this is what the very first glimpse into this one-of-a-kind experience from Grameenphone looked like!  It felt like a step into the movie theatre crafted only for you. 
The evening of March 10, 2023, was a rare spectacle. Bangabandhu Bangladesh-China Friendship Exhibition Center was illuminated with the presence of luminaries, business mavens, and the brightest minds among us, making the first-ever drive-in movie screening experience a true sight to behold!
There were lines of cars meticulously parked across the open field facing towards the large screen placed ahead, with a seating arrangement for two right beside each car. Creating an opportunity for all the guests to come together for a unique evening, this event was not just about the movies but about celebrating the finer aspects of life. The environment exuded peace and style, giving everyone a break from all the din and bustles of their daily life and enjoying a movie under a starlit night.
The evening started with friends and acquaintances gathering by the mingling zone and catching up over Vietnamese Iced Coffee, hugged by a cool springtime breeze. As a unique photo booth, a blue vintage Mercedes convertible was set up right by its side. Adding to that, Basic Kneads presented delicious platters of Banh mi, Lox Croissant, Lemon-Tea Meringue Tart, Hokkaido Cheese Tart, and Sweet Potato Chips that tantalised the tastebuds of guests throughout the evening. Besides, there was unlimited popcorn and ice cream to snack on. Barcodes were placed on each table for viewers to order their preferred items from their spots or while they mingled.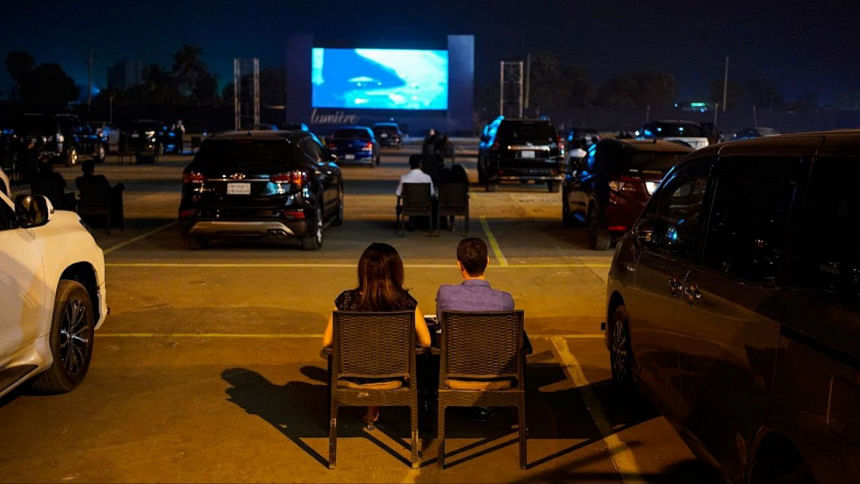 With her remarkable flair, host Maria Nur guided everyone to the main attraction through a splendid light and sound show, preparing the audience for the incredible experience. It began with Nuhash Humayun's 'Moshari' – a horror short based on two sisters living in the post-apocalyptic world. The second movie was 'Foreigners Only,' another thriller short by the same director, leaving the entire audience on edge!
This spectacular experience of watching two internationally acclaimed movies under the open sky was indeed one of a kind! An amalgamation of aesthetics, sophistication, and entertainment, this event was full of lustre. Reflecting on this unique experience, the world's number one all-rounder Shakib Al Hasan expressed his pleasure to be part of this first-of-a-kind event.
"We not only exist to provide you the best network experience for a digitally enhanced lifestyle, but also have pledged to bring you the most premium, exceptional, and delightful experiences." Sajjad Hasib, Chief Marketing Officer of Grameenphone, addressed the guest briefly and thanked them for gracing the occassion. "As the most loyal and valued Grameenphone users, you deserve the very best. We are constantly and effortlessly innovating our products, services, and initiatives — tailored exclusively for you, focusing on personal and exquisite encounters."
Club Lumiere is all about crafting exquisite experiences for its privileged members with every opportunity. Grameenphone's endeavour has always been to add bells and whistles to the overall experience of its loyal customers, ensuring they can wallow in all the luxuries one can afford. From dedicated relationship managers who can support them round the clock to exclusive personalised offers that make travel, shopping and all the epicurean joys in life much more worthwhile — Lumiere has got it covered! This drive-in movie screening was a part of this very goal, presenting an immersive and unique movie experience with loved ones for the first time ever in Bangladesh. This exclusive drive-in setup and interconnection of the connoisseurs of arts and culture made for a memorable experience for everyone present.