Wedding Season 101: What to Wear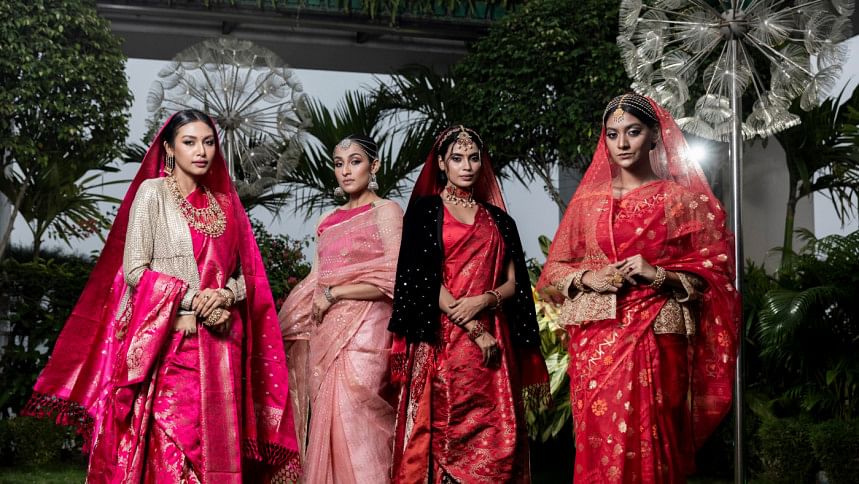 The wedding season has arrived and it is essential to start thinking about what attire to choose for the various events you will be attending. From formal black-tie affairs to more casual outdoor celebrations, there are a few key factors to consider when selecting your wedding attire.
First, paying attention to the dress code specified on the invitation is essential. While some weddings may have a specific dress code, such as black-tie or cocktail attire, others may be vaguer, simply stating "formal" or "semi-formal." In these cases, it's a good idea to dress more formally rather than less. If you are unsure about the dress code, it's always better to ask the bride or the groom for clarification.
For men, a traditional Bangladeshi outfit such as a panjabi or a kurta is always a suitable option for a formal Bangladeshi wedding. A panjabi can be a long, loose-fitting garment worn over a pair of trousers, typically made of rich, luxurious fabrics such as silk or velvet. Or it can be a long tunic worn with a pair of loose-fitting pants or shalwar and is often made of cotton or other lightweight fabrics. The more casual option can be worn at semi-formal or outdoor weddings.
For women, a formal Bangladeshi wedding calls for a sari, a traditional garment consisting of a long, flowing piece of fabric draped over the body and paired with a blouse and a petticoat. Saris are typically made of rich, luxurious fabrics such as silk or chiffon and are often embellished with intricate embroidery or other decorative details. The sari is typically worn with a dupatta, a long scarf or shawl draped over the head and shoulders, a pair of chandelier earrings, and other traditional Bangladeshi jewellery.
The attire can be a bit more relaxed for semi-formal or outdoor weddings. Men can opt for a lighter-coloured kurta or panjabi in a more casual fabric such as linen or cotton. Pair the outfit with a coordinating stole or shawl, and finish the look with traditional Bangladeshi footwear such as mojaris or sandals.
Women can choose a lehenga, a long, flared skirt paired with a blouse and a dupatta, or a shalwar kameez, a tunic and pant ensemble often worn with a dupatta. These outfits are typically made of lighter fabrics, such as cotton or chiffon, and can be embellished with embroidery, sequins, or other decorative details.
Pair the outfit with comfortable but dressy footwear, such as sandals or chappals, and add traditional Bangladeshi jewellery such as bangles, necklaces, and earrings to complete the look.
Regarding wedding attire in Bangladesh, it is essential to consider the specific event you will be attending and dress accordingly. Following the dress code and dressing in traditional Bangladeshi attire, you can ensure that you will look and feel your best at the upcoming wedding season events.