Strengthen macroprudential regulations: ICCB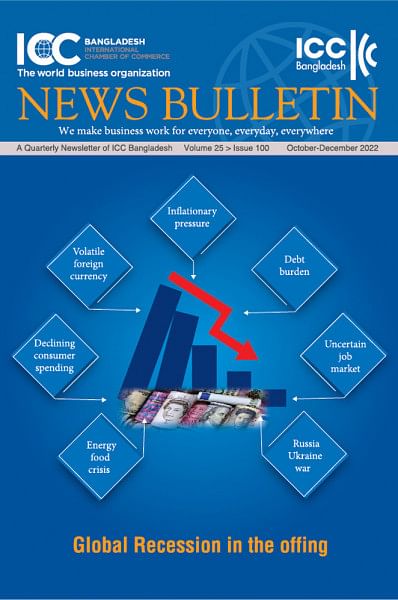 Bangladesh should direct major efforts towards strengthening macroprudential regulations and building foreign exchange reserves, according to experts. 
It should carefully regulate withdrawal of fiscal support measures while ensuring consistency with monetary policy objectives keeping a credible medium-term fiscal plan in place to provide targeted relief to vulnerable households, they said.
The country should aim to ease labour market constraints, increase labour force participation, reallocate displaced workers, reduce price pressures, they said.
Ensuring effective policy coordination will be important in increasing food and energy supplies, they added.
For the energy sector, they should accelerate implementation of policies on the transition to low-carbon energy sources and introduce measures to reduce energy consumption to face climate change, they said.
The suggestions came in an editorial of the current news bulletin (Oct-Dec, 2022) of the International Chamber of Commerce Bangladesh (ICCB) yesterday.
The ICCB, the Bangladesh chapter of world business organisation the International Chamber of Commerce, said although Bangladesh may not go into recession, the country was substantially prone to many of associated risks.
Appropriate steps can help the prevailing economic situation of the country turn for the better, it said.
These include diversifying the export basket, increasing remittance inflow through formal channels, streamlining public sector expenditures, rationalising mega infrastructure and other projects and undertaking effective financial sector reforms.
The global economy surpassed $100 trillion for the first time in 2022 but is likely to stall in 2023 due to last year's multifaceted shocks and challenges, said the ICCB.
The three main global growth engines -- the US, Europe and China-- will experience slower growth in 2023, it said.
Higher-than-expected and persistent inflation, tightened financial conditions, the Russia-Ukraine war, lingering of the pandemic and supply-demand mismatches further turned the global economic outlook grim, according to the editorial.
Kristalina Georgieva, chief of International Monetary Fund, warned that one-third of the world economy could be in recession in 2023.
Even countries that would not be in recession, would feel the recessionary pressure for millions of people, she adds.
The war accelerated a series of cascading and interconnected global crises in food, fuel, and energy, resulting in raising the cost of living further and adding to inflationary pressure in many countries, said the editorial.
In addition, extreme weather conditions due to climate change pose downside risks to the global economic outlook and increasing energy prices also hamper the path toward a green transition, it said.
The persisting global challenges have caused rising debt vulnerabilities and hampered the way toward recovery, which further impacted the vulnerable groups, especially low-income and developing countries, it added.
The largest slowdown of global trade in generations and a significant decline in foreign direct investment, private capital flows and remittances are also contributing to global recession, it said.
The likely recession in the developed world will spur capital outflows from the developing countries, forcing them to devalue their currencies, thus adding to rising inflation and consequently to increasing interest rates, it said.