Politics not for killing, burning people: PM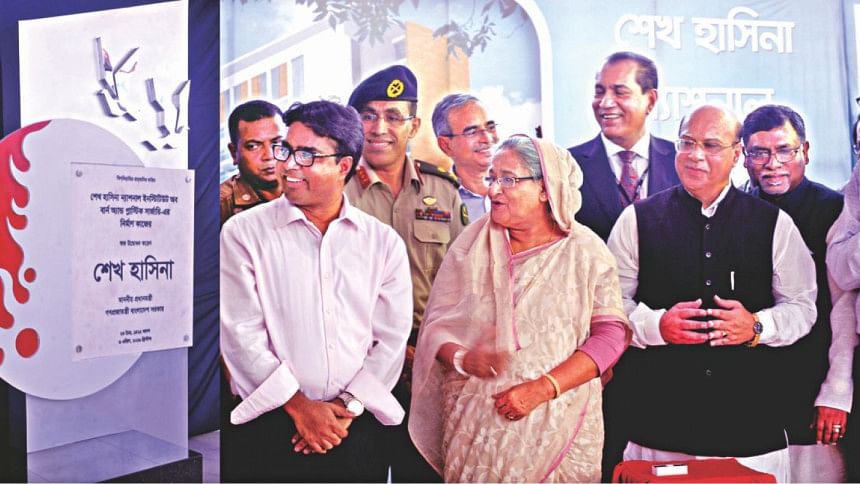 Recalling the horrible days of the BNP-Jamaat's indefinite blockade and hartal in 2015, Prime Minister Sheikh Hasina yesterday said those who killed people through arson attacks cannot expect public support.
"How can they [BNP-Jamaat] expect people to support them after killing people through arson attacks?" she questioned.
The PM was addressing a function after laying the foundation stone of Sheikh Hasina National Institute of Burn and Plastic Surgery in the city.
Taking a swipe at BNP-Jamaat for their blockade and hartal, the premier said it seemed that killing people through arson attacks was their movement.
"But we do politics for the welfare of people and upholding their interests ...politics is not for killing and burning people," Hasina mentioned.
Stressing the importance of providing world-class healthcare facilities in the country, she said the government is working to that end so that people do not have to go abroad.
"A section of people go aboard for their medical treatment…I've no objection if the rich people go abroad, but I don't believe the same standard of treatment can't be provided in the country," she added.
About the burn institute, the premier said it will be a centre of excellence for burn and plastic surgery treatment. She reiterated her commitment to set up a separate burn and plastic surgery unit at every medical college hospital across the country.
She said the government has taken all necessary measures to set up Chittagong and Rajshahi medical universities for creating scope for higher education and research in medicine.
Health Minister Mohammad Nasim, State Minister for Health Zahid Maleque, Dhaka South City Corporation Mayor Sayeed Khokon, Chief of Army Staff Gen Abu Belal Muhammad Shafiul Huq and Project Director of the institute Dr Samanta Lal Sen addressed the programme, among others.
The institute will have 500 beds, including 50 for the intensive care unit, 12 operating theatres (four each for the burn, emergency and plastic surgery units), and equipment such as burn tanks.