A celebration of culture
Four-day Parbatya Mela starts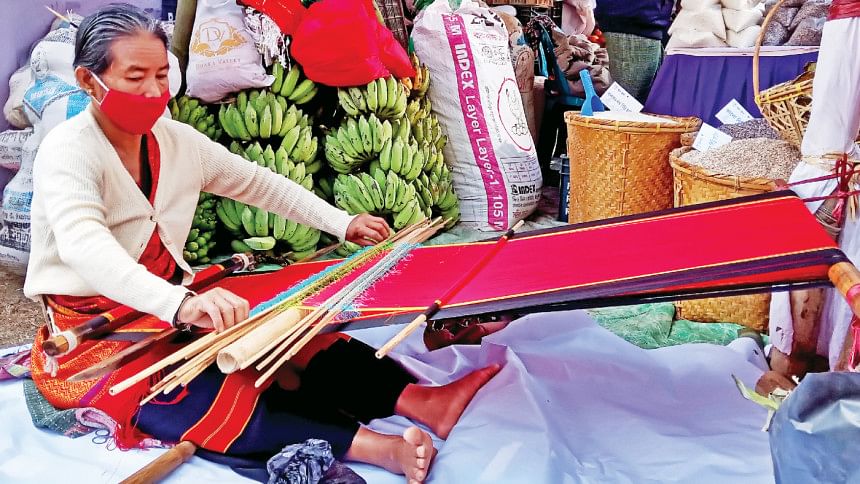 It was as if a piece of life on hills were brought to the capital. In this carnival of exchanging cultures, the people of the hills gathered to give a glimpse of their lives to the citizens of living in concretes.
Dhaka residents were seen busy browsing through traditional clothes or tasting the flavours brought fresh from the hills.
Such was the sight at "Parbatya Mela" currently ongoing at the Shilpakala Academy yesterday.
The four-day fair has been organised by the Ministry of Chittagong Hill Tracts Affairs, aiming to introduce and promote the products of the small ethnic communities.
State Minister for Cultural Affairs KM KHalid inaugurated the fair as chief guest with Chittagong Hill Tracts Affairs Minister Bir Bahadur Ushwe Sing in the chair.
At the end of the inaugural event, people started gathering on the complex premises. The shops opened, with bits and pieces of Bandarban, Rangamati, Khagrachhari in them.
Traditionally cooked dishes from the hill tracts were being sold at some stalls, including the famous Kola Pitha, Bora Pitha, Sanni Pitha, bamboo chicken and bamboo fish.
Meanwhile, many were decorated with agricultural products and fruits, including Binni rice, jhum pineapple, orange, perennial jackfruit, coconut kachu and Banglakala.
Other stalls displayed traditional "Pahari" clothes and garments, popularly known as bahari khami, lungi, gamchha and ornaments like chokers, hansuli and jhumka.
The fair will be open for everyone from 10:00am to 9:00pm.
Various cultural events have been scheduled for each evening where artists from Rangamati, Bandarban and Khagrachhari will perform.