'Resignation demand' left no scope for compromise
Momen tells visiting US congressmen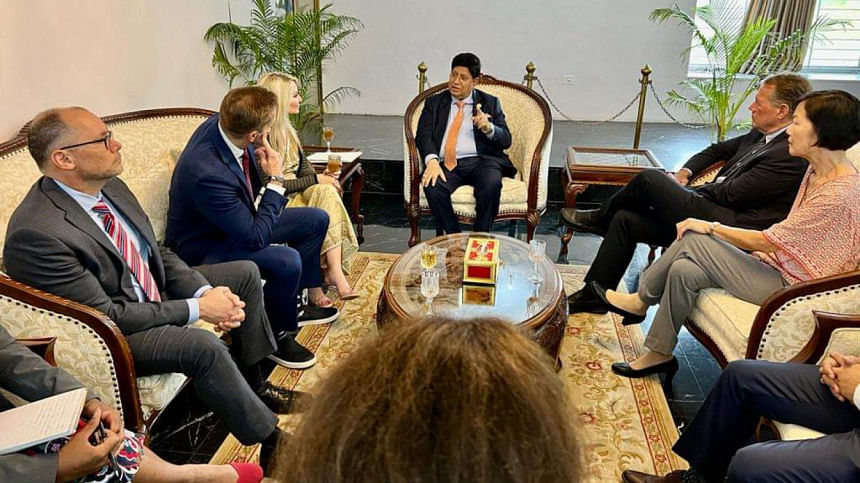 Foreign Minister AK Abdul Momen today told visiting US congressmen that the opposition's demand for the government's resignation has left 'no scope' for compromise over the upcoming national polls.
His comment came as the two US Congressmen -- Republican Rich McCormick and Democrat Ed Case -- sought to learn from him if the government has any plan like that during a meeting at the State Guest House Padma today.
"The government must step down – that's their (opposition) demand. We told them (congressmen) that. If that is so, we don't see any scope for compromise," he told journalists after the meeting with the Congressmen.
Momen said, replying to a question, he asked the Congressmen if the US government would step down if there is a demand from the opposition there.
There is no question of sitting down for discussion if the opposition sticks to their demand that the government step down before the polls, he added.
"We will hold elections based on the constitution. All should participate in it. Whoever wins or not will depend on the people. We believe we have performed well and so people will vote for us," he told the Congressmen.
Momen said the Congressmen said, in US, Republicans and Democrats always look for consensus despite their differences.
In response, Momen said, "You have someone like Ted Kenedy, who mediated for consensus. Here, there is no demand for consensus."
He also said that the opposition political party here does not care about elections, but the fall of the government, which he said is not a topic for discussion.
Asked if the US Congressmen provided any formula regarding the upcoming elections, Momen responded in the negative.
"We said we are committed to free and fair elections. We will do it out of our own efforts. We want public support. Awami League always believes in free and fair elections.
"If all parties want free, fair and non-violent polls, it is possible. It cannot be guaranteed if only the Election Commission or the government wants. All need to be sincere for making the polls non-violent."