'Custodial Torture': 2 Natore cops get 'best officer of the month' awards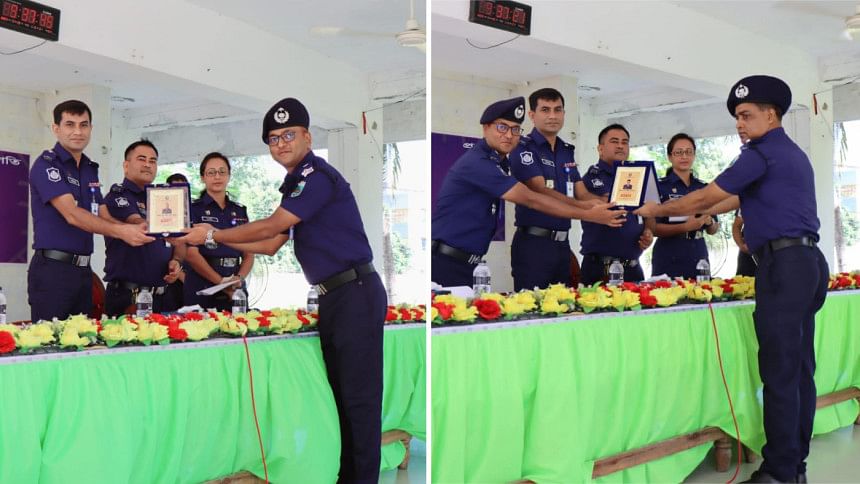 Additional Superintendent of Police of Baraigram Sharif Al Rajib and Lalpur Police Station Officer-in-Charge Ujjal Hossain, who were accused of torturing three persons in custody, have been given the "best police officers of the month" awards.
They received the awards for the month of June, the same month the allegation of custodial torture against them surfaced.
Natore Superintendent of Police Md Saifur Rahman handed over a crest to Sharif Al Rajib as the "Best Circle Officer" and Ujjal Hossain the as the "Best OC" at a police welfare meeting at Natore Police Lines yesterday, reports our Natore correspondent.
Durniti Pratiradh Committee (Drupok) Natore district unit president Abdur Razzaque denounced the decision of awarding the two officers.
He said such moves will have an adverse effect on society and encourage crime.
Advocate Md Abbas Ali, Natore district general secretary of Sujan, echoed the same.
Contacted, SP Saifur said the allegations of torture against the police officers were not true. Moreover, the award has been given to them after evaluating their entire month's performance.
Md Rashidul Hasan, additional DIG (administration) of Rajshahi range, said he did not know about the matter and would look into the issue.
On July 12, police sent 4 people -- Md Sohag Hossain, Shamim Molla, Md Salam and Md Rakibul Islam -- to court for allegedly carjacking a three-wheeler.
The three accused among the four, in statements given to the Senior Judicial Magistrate of Lalpur Cognizance Court, complained that they were tortured at the Lalpur Police Station to make them falsely confess to the carjacking incident.
The five cops are ASP Rajib, OC Ujjal Hossain, sub-inspectors Md Zahid Hasan and Omar Farooq Shimul, and a constable.