Mamata capable of running India
Says Amartya Sen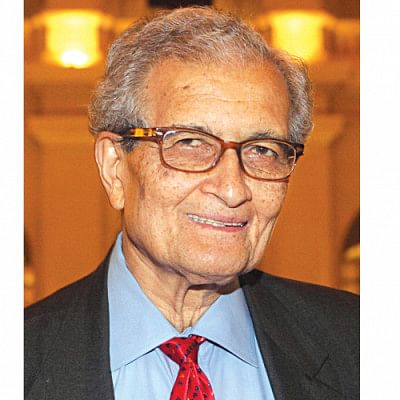 Nobel Laureate economist Amartya Sen has opined  that West Bengal Chief Minister Mamata Banerjee clearly has the ability to become India's prime minister.
In an interview with PTI in Kolkata, Sen expressed doubts about the main opposition Congress' ability to win the 2024 general elections as the party has "weakened". He, however, said it is the only party to provide an all-India vision.
Asked if Mamata Banerjee could be the country's next PM, Sen said, "It's not that she does not have the ability to do it. She clearly has the ability. On the other hand, it's yet not established that Mamata can pull the forces of public dismay against the BJP in an integrated way to make it possible for her to have the leadership to put an end to the factionalisation in India."
Sen said it "would be a mistake" to think that the 2024 Lok Sabha elections would be a one-horse race in favour of the BJP and felt that the role of a number of regional parties would be "clearly important".
"I think the DMK is an important party, the TMC is certainly important and the Samajwadi Party has some standing but whether that could be extended I do not know.
"I think it would be a mistake to take the dismissive view that there is no other party that can take the place of BJP," according to Sen.
He said, "The BJP has substantially reduced the vision of India. It has narrowed the understanding of India as just Hindu India and as a Hindi-speaking India in such a strong way that it would be sad if there is no alternative to the BJP in India today."
"If the BJP looks strong and powerful, it has a good deal of weakness too. So, I think other political parties will be able to come to a debate if they really try. I do not know enough to be able to dismiss the anti-BJP parties together," he said.
Replying to a question, Sen said, "The Congress seems to have weakened a lot and I do not know how much somebody can rely on Congress. However, the Congress certainly provides an all-India vision which no other party can take over. Then again, there are divisions within the Congress."